Weekly collaboration a reality next year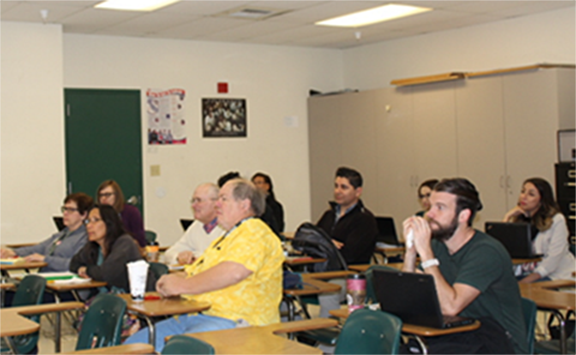 Advertisement
Hang on for a minute...we're trying to find some more stories you might like.
Next year collaboration will go from being every other week to every week. The change in collaboration days was a part of a negotiation in this upcoming year's contract that the district office and the teachers endorsed.
It took a year for both the Salinas Valley Federation of Teachers (SVFT) and the district to compromise on the amount of instructional minutes needed to be added that would be taken away by collaboration and the amount of money the district was willing to pay teachers for the extra minutes. The vote passed, and the end result was that there would be 28 collaborations out of the 35 Wednesdays in the school year and school will end at 2:54 instead of 2:50. Juniors Alexis Mejia and Esmeralda Garcia, were excited to hear about the new schedule for next year. Garcia said, "Collaboration every week makes everyone feel better because you get an extra hour to sleep in, so kids come to school more refreshed making it easier on the teachers as well." Mejia agreed with Garcia and added, "It would be a great relief because it gives us a stress free day after a hectic week of studying."   
Students, at all schools, love collaboration because they get to sleep in an extra hour, hang out with their friends before school starts, or finish up their homework. Teachers, on the other hand, have mixed feelings about collaboration every other Wednesday. Some teachers like having to meet with their co-workers, whereas some find it ineffective to only meet every other week. However, most teachers feel the transition to weekly collaboration will have a positive effect on both teachers and students. Carolyn Cleaves, health teacher and SVFT rep, says, "I like having more time to collaborate with my colleagues. I hope that it will allow for collaboration across the curriculum, so that we can do some collaboration with other departments."
Collaboration is a way for teachers to communicate with each other and form new ideas that aid students on a specific subject. All teachers meet and collaborate with teachers who teach the same subject. They discuss old lesson plans, new lesson plans, their progress on both, what is working, and what isn't working.
Although collaboration is very beneficial, it has its downfalls. For instance, some science and math teachers face the difficulties of teaching different subjects that don't allow them to collaborate efficiently throughout the year. Deirdre Gonzales, AP Bio and Chemistry teacher, is the only teacher on campus who teaches these subjects. On collaboration days she doesn't have anyone to really collaborate with. So, the change wouldn't affect her teaching or her students really except when science starts to become integrated then she thinks she'd see an improvement in student achievements. Gonzales said, "I usually have to go off-site and collaborate with other teachers in the district to get feedback on my classes."
Math teacher Carola Beussen, one of the many teachers who teaches multiple subjects, is in favor for the collaboration change. She said, "Having collaboration every other week is too much time in between to get any reasonable data out of assessments you did with the students, so I foresee that we will get a lot more feedback from how our students are doing on a weekly basis that will guide our instruction. Hopefully that's going to result in more student learning within the classroom All in all the students will benefit because of more collaboration, more communication between teachers and that's really what collaboration should be about, improving student learning. I believe will will see the improvements in student learning and student achievements." Either way, collaboration will "help support teachers to meet the needs of all students," said SVFT President, Kati Bassler.
Since next year there will be collaboration every week, one thing that will be affected is the Link Crew schedule. Link Crew is an extracurricular club that focuses on leadership skills by having upperclassmen connect and aid freshman in their transition from middle school to high school. Link Crew meets every collaboration day and even though it has been influential to freshman, collaboration every week will improve the activities and aid provided by the Link Crew leaders. Diana Huerta, Link Crew co-coordinator, said, "We will still be going into the classrooms every other Wednesday, but the other Wednesdays, when the kids don't go into the classrooms, they will have time to meet, talk and plan for the business stuff and for following weeks. This will be nice because most Link Crew students are involved in sports and other activities it's hard to get them all in the same place so I think it's going to be beneficial for the Link Crew students, as well as us to be able to get more stuff done and be more organized."
The idea of collaboration every week is something high schools have considered for a long time. Weekly collaboration benefits not only teachers, but their students too. According to assistant principal Gloria Chaidez, "Collaboration can be beneficial if we focus on results and if all collaborative members truly stick to the collaborative model and actively participate and have accountability in their group."