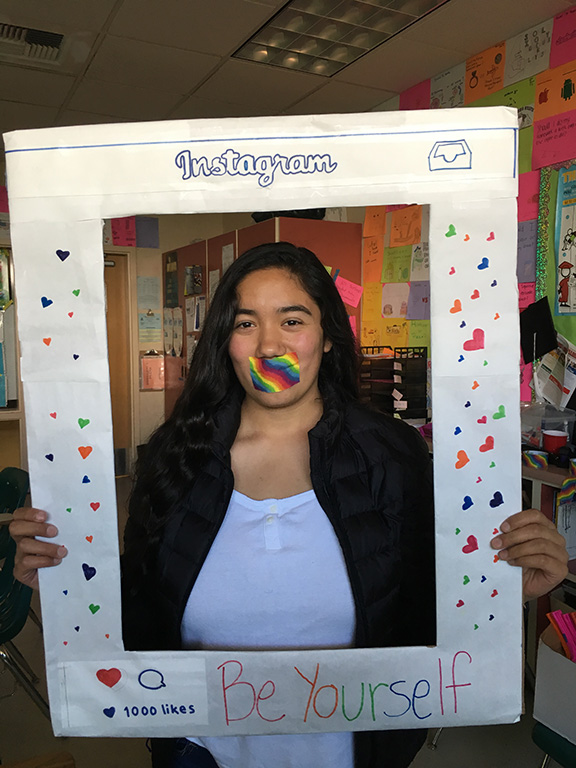 The popular show Thirteen Reasons Why addresses the problem of suicide as an option that LGBTQ may resort to, due to the treatment they receive for who they are and their sexual orientation, but it shouldn't be. To raise awareness, the Gay, Lesbian, and Straight Education Network has a Day of Silence. This event is student-led and organized in thousands of schools across the nation.
GLSEN is an organization that strives to end discrimination, harassment, and bullying based on sexual orientation, gender identity, and gender expression in schools from kindergarten to 12th grade. Their goal is to ensure safe and affirming schools for LGBTQ kids. The majority of them are still harassed and bullied, in fact 8 out of 10 still experience this treatment in school. GLSEN's Day of Silence is an effort to raise awareness to the silencing effects that are caused by bullying and harassment.
The purpose of this day is to raise consciousness to name-calling, harassment, and bullying experiences in school coming from those who are against LGBTQ. On this day, a vow of silence is taken by students ranging from middle schools all the way to college as a way to push schools, classmates, and peers to address this problem. Students, walk around with a piece of tape covering their mouths to show the harmful effects that can be caused by the treatments that some of the people who affiliate themselves to these sexualities receive. They carry around with them a whiteboard and a dry erase marker to be able to communicate with others.
People like feeling included and safe and LGBTQ who are harassed and bullied search for the same kind of environment, which is why the Be Yourself Club was started on campus. Be Yourself Club advisor Natalie Bernasconi said, "This day makes a huge impact on people because they begin to wonder why there are people around them that are being silent." This day is celebrated by many students as a way to advocate for LGBTQ. As a positive educational movement, Day of Silence pushes schools to provide solutions to these kinds of problems.
LGBT students are silenced every day out of fear of bullying and discrimination, but there is no need to be LGBTQ to show support for this cause. Early organizer Margarita Candelario said, "It was honestly amazing seeing so many students participating in an important event since LGBTQ teens have a high rate of suicide. I, myself am part of the LGBTQ community and suffer from mental illnesses, which I can feel I can say I understand what some of the victims may have felt. It's an indescribable feeling to have so many people support the LGBTQ community and stand up for them ."
During school there were many ways to show support by wearing bracelets and stickers that are rainbow colored. The most popular way that students have shown their support is by placing a multi colored tape over their mouths to show the silencing effects that bullying and discrimination cause. "All students should have each other back regardless of what they identify as. Peers become more understanding," said Noey Oliver Barocio, a graduate of Alisal who was part of the Be Yourself Club in high school.
Even if it is just one person who is involved it makes a huge impact for those who feel like they don't have a voice. "People who aren't part of the club came to support and unite with their friends who were in the club," said Bernasconi, "For some it might come off as awkward to come and support their friends, but it's truly amazing and genuine." According to the Be Yourself Club members,  they want people to be proud of who they are. This day amongst others like Coming Out Day In October, the club's Gender Bender fashion Show, and Ally Week where straight people who support LGBTQ to remind people of the issues that they face are celebrated are some of the many ways to advocate for LGBTQ people.
After the event finished, Bernasconi was pleasantly surprised two to three days later to look around and see people still wearing their rainbow colored bracelets, anklets, and tape. People continued to show support for the LGBTQ community several days later, which was the intended purpose of the event. Bernasconi said, "People showed a lot of support and it was very powerful."