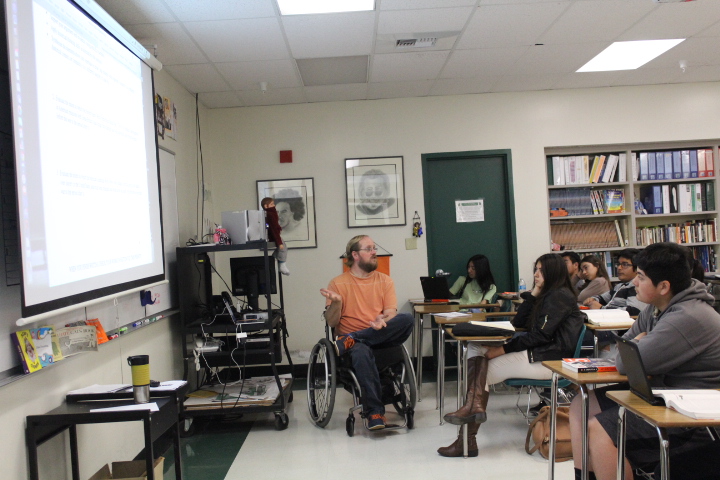 Junior year, which is usually known as the hardest year of high school, is when students start deciding whether or not they want to take AP classes. Advanced Placement (AP) is a program created by the College Board, which offers college-level curriculum and examinations to high school students. The top benefits are standing out in college admissions, earning college credit, skipping introductory classes, and building college skills.
At Alisal there are 13 AP class options – Calculus, Stats, English Literature, English Language and Composition, Biology, Physics, Economics, Psychology, Government, US History, Japanese, Spanish Lit, and Spanish Language. Taking these classes help students get an idea of how it would be to actually take an college level class. Junior Evelyn Luquin, decided to take four AP classes because, "I saw an opportunity of taking a college level class and a possibility of getting ahead if I take and pass the AP exam."  
Taking the class does not mean that that you are prepared to take college level courses, which is why the AP test was designed. The AP test measures your achievement in your college level AP course. The test is scored out of 5 points. A 1 on the scale means no recommendation, a 2 stands for possibly qualified, a 3 means qualified, a 4 well qualified, and a 5 means extremely well qualified. This year, over 300 students signed up for the Spanish Language and Culture test, 80 for the English Lit and 85 for the English Language and Composition. Spanish teacher Anna Martinez said, "Students sign up for the test because they feel confident about their ability and skill to pass it. They have worked all year to prepare for the test, and I believe my students will do great because they have worked diligently."
AP classes have many benefits that help students for college – challenging yourself, earning college credit, improving college admissions chances, winning scholarships, saving money, and arriving at college better prepared. Taking an AP class can look good on your high school transcript and colleges will favor you more. Counselor Anthony Avitia said colleges favor these applicants because, "AP basically demonstrates students are willing to challenge themselves and take harder classes so they are better prepared for higher levels of college, and the higher points on their G.P.A." Colleges will see your commitment to education and the fact that you challenged yourself with college level courses. Not only do students sign up for AP to stand out on their applications, but so they can have that extra push to do well in a college like environment. Counselor Laura Jimenez said, "Students want to be prepared for college courses and Advanced Placement courses gives them an idea of the rigor they will potentially experience in College. Among other reasons, it is because once they have taken the course and prepare well, they can take the AP tests which if passed can give them college credits."
Although students may struggle with the classes and the work at first, many of the students who take the AP classes are able to adjust. Students find that all their AP classes offer different amounts of work, and they are taught differently; however, they all can give arduous amounts of work. Senior Desteney Garcia said, "Some AP are a lot of work, but they help you learn at a fast pace, like how you would learn in college. The summer work from psychology motivated me to actually study so I can know what type of work to expect from the class, and for English I was introduced to a different genre of books that I normally wouldn't read. This helped open my mind for the things that I would be introduced to in class." Teachers mainly give summer work so they can know from the beginning who is serious about the class, and to help students figure out what it may take to be in the class.
The amount of work varies from reading books, taking notes, memorizing things, and answering questions on Albert.io. Teachers also give homework during the break so students won't forget what they have learned by the time the test comes up in May. Junior AP English teacher Mick Battaglini said, "When it comes to summer work, I want to introduce some information so we can hit the ground running. It also serves to see who is serious about the class. Work over breaks during the school year is to keep people sharp because we don't have time to get to everything during the school year." The work the teachers give students help push them to work harder and gets them thinking more like college students.
A drawback of taking AP classes is that many students don't realize the amount of responsibility they are creating for themselves. Students start to get overwhelmed with the amount of work they have, stress about their grades, and begin to worry about the affect it has on their G.P.A. Senior Sierra Enriquez said, "It's hard learning how to manage my time for my classes along with my other activities. It pushed me to have to work hard, and stay up some nights to finish my work. It's stressful but worth it in the long run in ways you won't imagine." AP is not for everyone, but if you are considering taking an AP class you should start off with one and see how you handle the work.
Students are excited when they sign up for AP classes. They are motivated to do their best to pass the class with a good grade and hopefully pass the AP test. Once the school year begins students realize how much of a responsibility the class actually is. Luquin said, "The hardest thing about taking AP is the amount of homework given, and being able to spread it out throughout the time frame that's due in order to complete it on time." The work is a bit overwhelming at the beginning, but when students start to learn exactly what they signed up for, they begin to learn how to manage their time.
Bryan Escamilla, a 2016 Alisal graduate who now attends Washington State University, said, "Some of the classes do teach you how to manage your time better. Also they show you like a preview into how difficult college classes are going to be. So it pretty much showed me that I can't slack off and I will sometimes need to put more work than the usual high school classes." Escamilla took AP History, Calculus, Government, Physics, and both English Language and Literature. Although most teachers recommend only taking two AP classes at most, he explained that although it wasn't easy, it was all based on how well you managed your time.
Many of the teachers and counselors recommended students to take AP even though it can be pretty challenging. Assistant principal Gloria Chaidez said, "Students should take an AP class. They should challenge themselves in a rigorous environment so they can feel prepared when they do take a college class, and strive to pass the test." The staff at Alisal all want their students to do well and try to give the students all the opportunities they can to continue their education at a higher level.
College is no walk in the park, and most students don't want to stay in school longer than they have to. When students pass the test they are able to receive college credit. This credit usually goes towards introductory classes. Counselor Edith Nava said, "I think that regardless of passing the AP test, AP classes give students a preview of college coursework so it could be beneficial to take AP classes." AP gets you prepared for the work you'll receive in college, which can help you graduate on time.
AP classes are not easy, they require a lot of time and dedication, however the overall benefits of advance placement classes is significant if you are a student that wants to go and succeed in college. Not only do you get exposed to the same amount of work as college students, you also work in an environment with students who take their education seriously. If you are serious about your education, and hope to go to college, AP is the way to go.