Striving "Fore" Success
On the 8th hole, Maria Duran came up short on this put against Christopher High. The Trojans dropped the match, 262 to 316.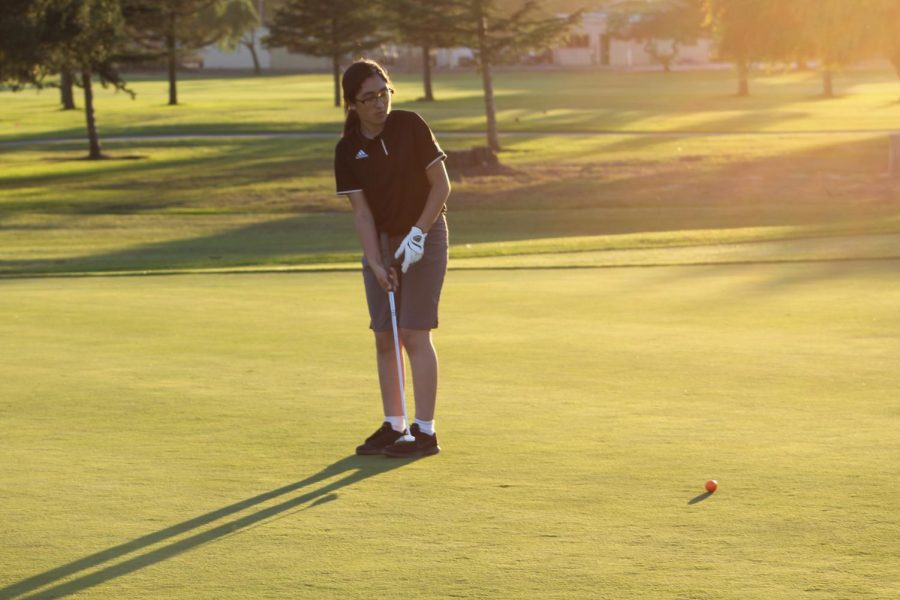 After going 4-6 last year and placing third in league, the girls' golf team hopes to improve because of the number of returning players and this year's new league. With their return comes high expectations, one of which is to have each girl score under 50 per match and place first as a team this season.
This will be Coach Leo Reynoso's second year of being head coach with assistant coach, Emiliano Ferrel. Together they hope to take advantage of a larger team and introduce new skills in order to improve their teams game and golf fundamentals, specially putting. Reynoso says, "Putting is fundamental because it is part of almost every stroke in the game, which is why it's my main focus of development this season."
This season Reynoso has eight returning players – seniors Anayra Sedano and Daisy Garcia; juniors Angela Ojeda, Yamilet Castro, Brenda Chavez, Itzel Vargas, and Evelyn Becerra; and sophomore Maria Duran – and three new golfers – senior Esmeralda Duran; and juniors Dulce Tolentino and Julissa Garcia. He hopes to place first or second in league considering that last year the team placed third. On top of this, Reynoso hopes to obtain the sportsmanship award for a second year. "It would be nice to win the sportsmanship award for two years straight because it is a representation of who the girls are as a whole team."
Not only is the team under high expectations because of the number of returning players, but also this season will be played under a new league and new division. This years league is  the Pacific Coast Athletic League, or PCAL and Alisal is under division II (PCAL- Mission ) golf. With this new league comes a new competitor, Alvarez High. Sedano said, "I am looking forward to playing Alvarez just because we have never played them before and I would like to know what they're bringing into this year's season." Although having a new competitor Reynoso said, "I am looking forward to playing North Monterey County because they have a professional golfer as coach and Christopher because they placed first last season."
Although the number of returning players is a positive to this year's season their are many challenges. The team is constructed of upperclassmen and because of that many of the girls are heavily involved in this year's academics. Sedano, Vargas and Duran agreed that this season's challenge will be scheduling and balancing school and sports. Duran stated, "We all have busy schedules this year and it will reflect on our game, but I hope to balance my school and sport schedule in order to play the sport I love."
Despite this year's challenge the girls have many goals for themselves. Sedano stated, "This year I hope to improve in my overall game, but I will specially be working towards lowering my average score, making it under par, and being number two for the team."
With no pre-season matches available, the team had to practice four days a week in order to make up for their pre-season. Daisy Garcia, the team's #1 seed stated, "I think what's more important than practice is being in the right mental state when playing. Focusing on the ball is hard when you are focused on other things." Despite having no preseason, the team won their first match of the season against North Monterey County and Daisy Garcia, received the medalist award, a recognition given to the best scorer between both teams. When asked about the recognition, Garcia said, " I was surprised. I didn't think that I would do that well, but this goes to show how much golf is really a competition within yourself rather than with someone else."  
After facing North Monterey County, the girls faced Christopher High, last year's league champions. This games line up was Daisy Garcia, Yamilet Castro, Anayra Sedano, Itzel Vargas, Maria Duran and Esmeralda Duran. Although the girls came up short against Christopher, their persistence and support for each other was the main takeaway from the match. As of now, the girls are 1-1 in league and their next match will be against Watsonville High School on Monday, September 24th..
By Xochil Reyes