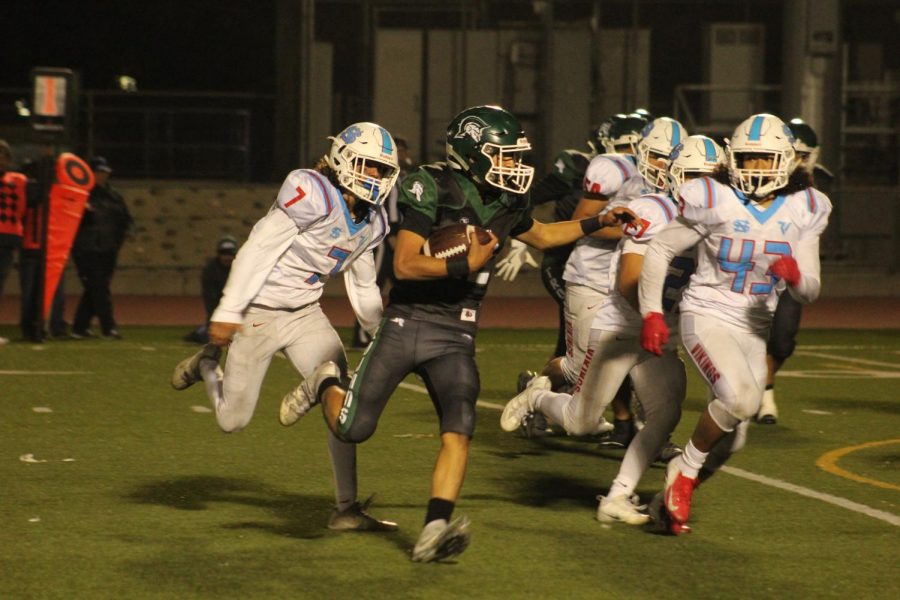 Last year, after starting 1-4, the Alisal football team made school history winning their first CCS playoff game. "I am Proud of the kids, our reaction was as coaches and players we wanted to get back out there and achieve more,¨ said head coach Cesar Chaidez.
While the team was excited by last year, some changes made repeating that success a challenge. The team lost their starting senior quarterback, Andrew Marquez, however they gained a new one, senior Julian Renteria. ¨It's tough losing players, but it's part of the process,¨ said Chaidez. He added, "Julian is a good QB. He knows how to make good choices when it comes to giving the ball or keeping it." Renteria said, ¨I've always, wanted to be quarterback."
Another challenge was dealing with league realignment. ¨We play who we play, we focus on us Monday-Thursday. If we did our jobs as coaches and they did theirs as players we will ultimately be ready for any opponent,¨ said Chaidez. This year the Trojans have 18 returning players that have experience from last year's historic season, with 16 new players. According to Chaidez, the playmakers for this season are the O-Line, ¨who are absolute studs,¨ Chaidez said.
Renteria said, ¨Our strength is our brotherhood, we have a close bond with each other on and off the field.¨
Returning seniors – Right guard Isaac Dueñas, wide receiver and cornerback Enrique Ibarra, A back and safety, Anthony Estrada, right tackle Julian Cardenas, left guard Jio Ochoa, and fullback/safety Dorian Segovia – all have the same goals: make the playoffs and win CCS.  
However, this year the team is facing some struggles. Coach Nau, the defensive coordinator,  feels that one of the team's struggles is not having enough players out of 35 because most of them play both sides of the ball. Looking back at their first game against Live Oak, coach Nau said, ¨They don't give up, they got heart.¨
The team finished 2-2 in the preseason beating Alvarez and Seaside, while losing to Live Oak and Terra Nova. ¨Were still in the same spot going into league 0-0, in our mind,¨ said Chaidez.  The team's strength is that "they are very resilient and they don't complain, we couldn't be prouder of the group of kids we have.¨ Chaidez said. Some few other players to watch include, ¨In the back field we got Julian Renteria, Dorian Segovia, Israel Corona, Anthony Estrada, Enrique Ibarra on the offensive side,¨ said Chaidez. Coaches believe this year will be a good one based on previous games and their players hardwork and commitment.
That hard work and commitment seemed to pay off as the team won its opener in dominant fashion, defeating North Salinas 42-19. Week 2 has the Trojans visiting Scotts Valley.
By Antonio Chavez