Free lunch for all
This school year everyone at Alisal High will be able to eat lunch for free, offering a hand to those who didn't have this opportunity.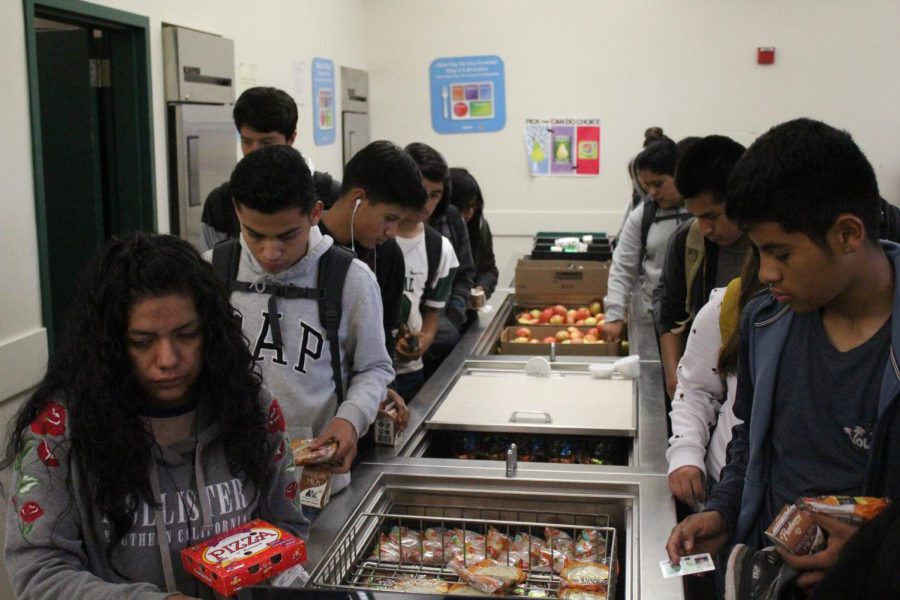 Advertisement
When Alisal High School students opened cafeteria doors in the fall, they came across the same bean-and-cheese burritos, spicy chicken burgers, bagels, cinnamon rolls and cereal, but this year will be different. All students now have free access to those meals thanks to changes from the Salinas Union High School District, which oversees Alisal. "From last year to this year our numbers changed. Last year we were preparing for 1200 and it jumped to 300 more," said Emiliano Ferrel Cafeteria Manager at Alisal High School.
The Community Eligibility Provision, a non-pricing meal service from the U.S. Department of Agriculture that provides students low-income areas, made it possible for all students in SUHSD to receive meals at no cost. This gave a relief to many parents knowing that their income won't prevent their kids from receiving meals.
Also, students don't have to rely on their parents' income to decide whether they eat free, now all students have the same opportunity to enjoy a meal at no cost.
SUHSD's Food Services Manager, Christina Varela, mentioned that the district plans meals to give students a variety of options, in order to decrease food waste.
Varela said she was concerned about whether all students were eating, and did not want money to be one of the reasons why students would not eat. But this recently changed. "The district got approved for Community Eligibility Provision for this upcoming year," Varela said. "This means that every student attending a school located in the Salinas Union High School District will have free lunch and breakfast no matter what their income status is."

SUHSD conducted a food tasting, where Varela brought in different vendors to come in and put out some of their food. With help from Courtney Baldwin, former HealthCorps coordinator at Alisal High, Varela gathered around 20 high schoolers from around the district to do food tastings. Students rated the food, which helped Varela have a perspective on what meals they would want to see on the menu.
As much as they want to cater to students, there are guidelines that must be followed. Varela said, "We go by the guidelines the state says so the National School Lunch Program which then the state dictates to us what their guidelines are so basically is a complete meal;  milk, fruit, your protein,your vegetable, and we have to work within that group to create the menus."
According to Daisy Garcia, president of Associated Student Body at Alisal High School, students rely on the salad bar at lunch. They choose salads over main dishes like burgers, burritos, or popcorn chicken. Because of this, Garcia said the salad bar runs out quickly and is not refilled appropriately.
In response to the salad bar issues Ferrel said, "We had some auditors come and pay us a visit and they said that our salad bar was not compliant and that we needed someone to monitor to ensure the kids are taking the right amount of items, that allows it to qualify for our state guidelines."  As of now, the Salad Bar is not available, but Ferrel said that they offer pre-made salads which contain the right amount of items.
All foods that served in school cafeterias have to meet the nutritional standards. Meals have to contain certain amounts of grain, dairy, protein and other basic food blocks in order to be put out in the table. But while food has to meet certain nutritional requirements, high-quality serving is overlooked.  "There is a lot of financial consideration that goes into the purchasing of foods for lunches—they want to be able to feed as many students as possible, fitting all the government nutrition requirements and fitting within a tight budget," said Baldwin.
While the free lunch for all is new for the district, Alisal has been ahead of the curve because it has been offering both free breakfast and an afternoon snack for all for the past two years.