Working as a teenager in high school
Falling into the decision of working during high school may cause some stress managing your responsibilities.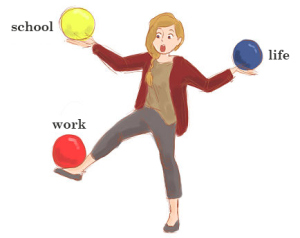 Advertisement
Have you ever thought about working while in high school? There may be teens that work to contribute with family expenses, save money for college, or other expenses. They might also work to be dependent on themselves and not depend on their parents, others may just work to have some work experience. I personally work for most of those reasons.
I started working when I was 16 years old, my junior year of high school, at McDonald's. I started working because I didn't want to depend on my parents anymore, I wanted to help them out with some family expenses, save money for college, and have some work experience. So far my experiences working have helped in getting me out of my comfort zone and learning how to value more things.
Working as a teen has taught me many things that I thought would take me awhile to manage. First of all, I've gained work experience. Working has taught me to be more responsible, how to manage my money, build up my schedule, gain communication skills, time management, and learn to value more things. My communication skills have improved not only at work, but everywhere, and has helped me schedule several things. Learning how to manage my money has helped me by setting aside half of my check mostly for my savings or for helping with family expenses.
The other half of my check is used for buying my own clothes, shoes, or food. Work has  taught me to work as a team and have patience with others. Learning these skills has also helped me manage my time with schoolwork, work, and responsibilities at home. It has also helped me build my resume early and that makes me stand out from others that don't currently work.
Having an education and working is a challenge for me because they both interfere with each other. Work has caused me to drop my grades, increase my stress, prioritize work first rather than school, and not have time to be as involved in school. It has also interfered with my life because now I don't have as much free time as I had before I started working. I hardly have time to spend with my family and friends.
When it comes to school, I feel stressed because sometimes I don't have time to do most of my homework, either because I'm tired or it's too late to do my homework and I just want to go to bed already or because I have other responsibilities at home, wishing I would have waited to start working after high school. Not having my homework done causes me to not understand the material that I'm learning in class and that causes me to drop my grades and be more stressed until I have time to make up those missing homework assignments and go to tutorials to ask for help.
Even though many teens in high school have enough responsibilities at home and school, they still manage to work during their teen years. From my experiences, I think that teens that want to work during high school should wait to start working during the summer, or if they decide to work during school, they should first learn to manage their time and learn to schedule their responsibilities. Working during the summer is a better than working during school because during the summer you might get more hours of work. During school time the maximum hours you can get is around 10-12, and work can interfere with schoolwork and responsibilities at home, which can lead them to be stressed or feel overwhelmed.