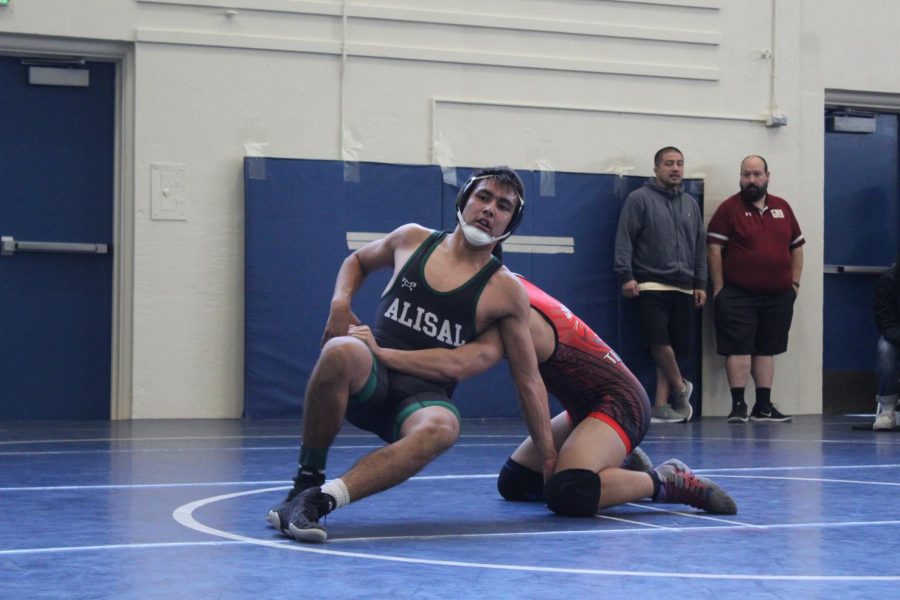 The boys' wrestling team had a successful season last year, after getting 11 boys to earn a spot in CCS. Unfortunately, only six were able to compete and the results didn't go as intended with only Jose Hernandez placing 6th in CCS.
Head Coach Jose Julio Garcia had mixed emotions about last year's CCS stating, "We could have done better overall and I felt cheated out of coaching the seniors of the team." Garcia was unable to attend CCS due to a life changing experience.
The coach hopes the team bounces back this season. Garcia is very excited with this season's lineup,"I'm excited for my junior lineup, with seniors looking to break through this year. The returners are Jovani Porras, Andrew Blains, Justice Jones, David Ramirez, Brandon Jacuinde, Jerry Jurado and Jose Hernandez."
Although the team is getting back most of their varsity lineup from last season, it is still missing wrestlers for its lightest weight classes ranging from 106 to 113, and from it's heavyweight classes which could affect the varsity team. This year's team is smaller compared to last years team, this can possibly alter the team's winning capabilities in dual meets and tournaments  because of the points given up due to a lack of wrestlers in the varsity lineup. Garcia had a strong opinion to the size of the team stating," We wrestle with what we got".
One key wrestler is David Ramirez, Aka Potential. Ramirez wasn't able to compete in last year's CCS due to a back injury, but he dominated in the tournaments leading up to CCS. He hopes to do well this season, "My main goal for this season is to win CCS and hopefully qualify for state." Ramirez also talked about his challenges for this new season, "I believe my toughest opponent is myself because I need to have the mentality physically and mentally every day when I go into the wrestling room knowing practice is going to be tough."
Another key wrestler, according to Garcia, is Jose Hernandez. Although he had a rough start in last year's season, he was able to qualify for CCS and he secured a spot for 6th place. "I felt that I could have done better last year if I had put in more work during the off-season but I was glad that I was able to end it off by placing in CCS," he said. Hernandez hopes to take home a first place medal at CCS and he also hopes that he can qualify for state.
The team faced their first opponent Palma at a home dual meet on December 5th. Unfortunately the varsity line-up was not enough, Palma won 23-33. Garcia was not happy with the result stating, "We gotta work on the simple mistakes, we gave up too many points." Garcia had felt that even as the team gave away free points because of the absent varsity spots, he knew that the varsity team could've won. The team now hopes to achieve a victory over the next up incoming dual meet against San Benito on December 12th. Unfortunately the team lost to San Benito due to the shortage on a varsity lineup, the team went on break for duals and the varsity boys went on to compete in tournaments. The first tough tournament for the boys was coast classics, this tournament proved to be tough with only Andrew Blains placing 8th.
The team then went back to wrestling Salinas High for the first dual of the new year, the team went on to defeat Salinas for their first dual win of the season. The team also had a tournament style dual in that following week as well as a individual tournament. The boys were able to place 5th as a team in the first tournament and on the following tournament only 4 boys placing. Brandon Jacqunde placed first in the 156 weight class, Justice Jones placed 4th for the 141 weight class,followed by David Ramirez placing 5th for the 141 weight class, lastly Andrew Blains placed 7th. Brandon Jacuinde also earned a most outstanding upper weight class award.
The most challenging match-up the team will face this year will be Gilroy, Gilroy is ranked #2 in the state. Gilroy has also won CCS as a team 16 consecutive times and placed 3rd in state as a team in last season's State finals but coach Garcia believes that every match is an opportunity for our wrestlers to learn from. Coach Garcia went on to say, "the more exposure we can get our guys, the more comfortable they will be with their abilities and training." Week to week the wrestlers may face off against someone who they may see at CCS from a different league. By holding wins over other wrestlers will help rank our wrestlers and possibly get seeded at CCS.