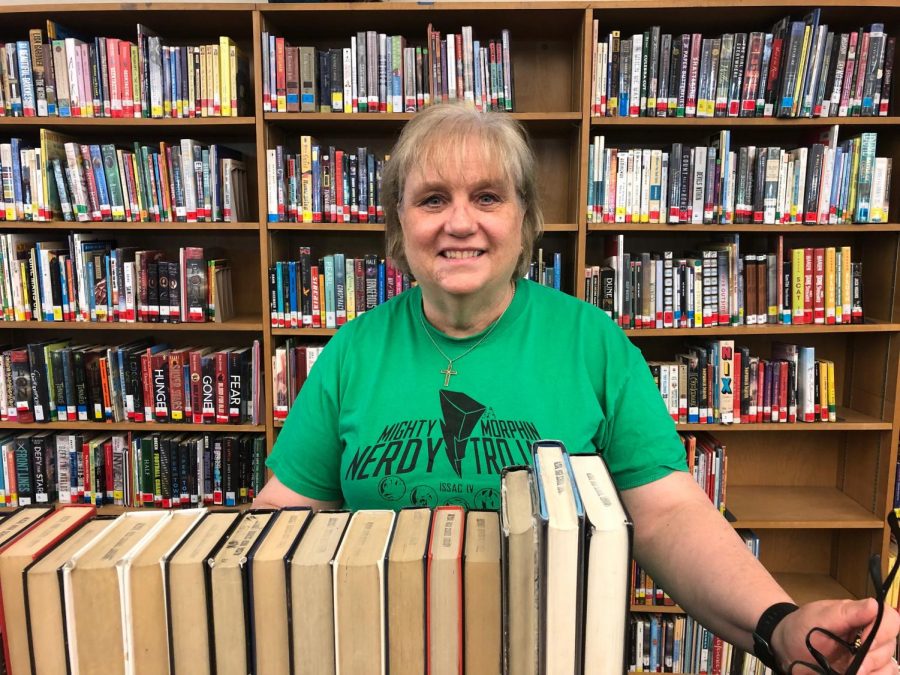 Every school has a library, the place where people go for information. In the library is the keeper of knowledge, the librarian. They're the glue that holds all the books together. They play a crucial role to make sure the library's clean, stocked with the latest books, and that every student has the right materials to succeed. Librarians help you figure out what reading level you should be at and help you find reliable responses to do research with. For the past 13 years librarian Joanne Collins has overseen these duties, but she has decided to retire this year.
Collins was born in January 14, 1956, and grew up in Brooklyn, New York. Her mother immigrated to the US from the Czech Republic or Czechoslovakia, as it was known then. Her father's family also immigrated, so she's the first generation when my mother came here.
She grew up in a home where they wanted them to improve on how their lives had been because her mother was fleeing more or less the Czech Republic from the Communists. Her grandfather had sent her mom here by herself. He had a sister who was living here who had immigrated with her husband, so they sent her mother here so she could have freedom and a better life. Collins said, "Obviously, how they looked at the world influenced me quite a bit." She met her husband at West Point Military Academy, and she fell for him because they had the same values and they were married in 1977. Collins was very skilled as a child. She played music, enjoyed ice skating, and liked music because her dad was a musician.
She also loved to read. When she was in elementary school, students were allowed to help out in the library if they had good enough grades and attendance. She had been chosen to work in there, and fell in love with the work. Collins has read many books, but her favorite book  is The Hobbit and The Lord Of The Rings Trilogy. She said, "My husband and I are huge fans of the Hobbit and The Lord of the Rings Trilogy. When my three children were growing up we would read The Hobbit and The Lord of the Rings Trilogy individually before they went to bed. Those books bring back a lot of memories and family time."
Her parents were a great inspiration to her. Her father was very smart. He had been accepted to different universities based on his grades, but it was during WW2 and his family didn't have the money to send him to college, so he went into the Navy. The Navy helped and he eventually helped design how they freeze dry stuff. He was working with a company in which he helped design the machinery for freeze-drying things. Her dad was also the chief engineer of the Empire State Building. Her mother was also a big inspiration to her because her mother came to this country without knowing anyone besides her father's sister, who she didn't really know, and she came here and made a life for herself.
Collins was the first to graduate from college. She attended Pace University, which is a private university in New York City, and she got a degree in  English literature. Then she went on and got her Masters in Library Science at the University of Hawaii in Honolulu because she got married in her senior year of college and her husband's first tour of duty was in Hawaii.
She has always wanted to be a librarian, but she first started off as law librarian. She explained, "As a law librarian you work for the courts or for law firms and they would have their own libraries. You know the attorneys have to do research, so I worked for quite a few different law firms in Hawaii, Texas, and Washington, DC. I really enjoyed it because I would do legal research for all the different cases." She ended up in Salinas because her husband was stationed here, he was associate dean of East European School at the Defense Language Institute. He was stationed there and retired, so they just decided to stay and she was previously the district librarian and ran the libraries for the Alisal Union District. She ran all the libraries and she had someone working in each one, but she supervised all of them. When that position was cut she went online and saw that there was an opening for a librarian at Alisal High School, where she has been since 2005.
Collins is retiring because she has accepted a new job. Her husband and her want to travel more, and while they have done a lot of traveling, there are still many places they want to visit. Her favor place she has traveled to was the Czech Republic because she was able to see her mother's family and see where she same from. She has been offered a position and accepted at an International Baccalaureate school in Tbilisi, Georgia, a country in Europe. She will be the upper school librarian for a small private school.
While she's looking forward to the change, it won't be easy. "I'm going to miss the students the most. I've worked all over the world and I have to say, Alisal students are great. They're always respectful, they are helpful. I've been at a lot of schools where I could walk down a hallway and my arms will be full. I'll have books falling out of them and nobody would stop to help me, here I might be only carrying two or three books and I'll get 'Oh, can I help you with that?' So I think I'll miss the students and I'll obviously miss the the staff I've made a lot of friends. I like the spirit of Alisal, it feels like home and it was a very difficult decision to retire."