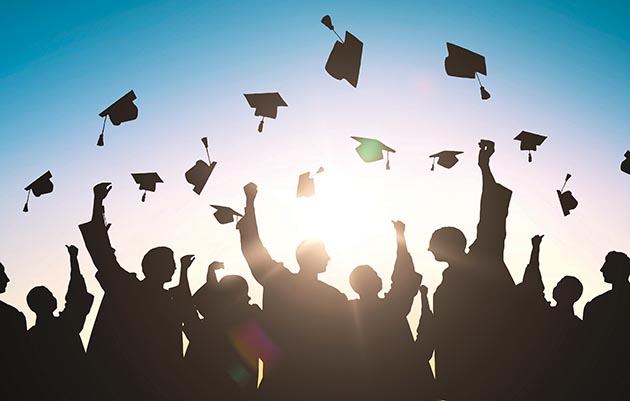 It's senior year and fear is sinking in because it's near the point of decision time for seniors to choose whether they're going to pursue higher education or look to work at a job.
Students have the option of going to either a four year or a two-year college, either of which can really help an individual out by paving a path for a career a student strives for.
A lot of students seem to have their career goals set, which makes it easier for them to decide on the college they would like to attend. On the other hand, there are students who don't know what they want to do after high school and fall into the undecided category.
As for me, I'm afraid that I've fallen onto the undecided path. I just don't know what career path I'm striving for. I really want to do something that's right for me, but things like tuition costs and family pressures are holding me back.
I'm at the point of not wanting to attend college because I don't want to go and waste money to not find a job that suits me after I graduate. I have been conditionally admitted to UC Merced, Fresno State, and CSUMB, but I am afraid about leaving family and friends behind.
What really caught my attention when it came to applying to Merced was the fact that it is a new university and is open to expanding its campus, meaning that they are willing to take more students in. As for applying to Fresno, it was really about its wrestling team, a team I could tryout for since it is my favorite sport. Lastly is CSUMB, and the reason I chose CSUMB was because I felt that it could be used as a backup plan and it's a cheaper alternative from the other universities and because it's closer to home.
Another factor behind my not wanting to go to college is the cost of tuition. Tuition cost for UC's are usually around $14,000, but there is a cheaper alternative, which is a community college. It's about $500 for four classes per semester, which is a way to save money. Community colleges, like Hartnell, are also nearby and I won't have to leave family and friends.
My current career plan is to become a veterinarian surgeon since I really enjoy being around animals and I'm fascinated by the beautiful creatures. Veterinarians do make a good amount of money as well, ranging from $80,000 to $120,000 a year. Steps to becoming a veterinarian are getting a bachelor's degree, earning a DVM (Doctor of Veterinary Medicine, which can take about two years to earn), and lastly, you need to become certified, which can take roughly about six years.
My father, however, has different career plans for me. He wants to be an electrician because of how much money they make. His brother is an electrician and my dad feels that his brother can possibly help me score a job as soon as possible. He feels it's a more suitable job for me because it can take about four years to get a full paying electrician job.  
If that didn't work out, he would like me to pursue a job having to do with demolition. My dad currently has me working with him in demolition and it's pretty tough work, with a lot of heavy lifting and strategic plans to carefully structuring out a demolition point. These two career plans my dad want me to purse are great and all, but they don't convince me. I'm at a point of confusion on deciding which career path is right for me and if I can even benefit from either of them.
I've set a deadline by the end of this month and I want to decide on which college I will attend, it's either UC Merced or CSU Fresno. What will really go into consideration for my choice is if I will qualify for financial aid or not. If I do receive financial aid my first choice of school would ultimately be UC Merced rather than Fresno because I feel that even though Merced is a bit pricier, I believe that I would have a better chance at graduating. Merced has a small class sizes compared to Fresno State's. Merced would really keep me on a more focused mindset rather than Fresno.
If I don't receive aid for any university, this means that I may need to go to Hartnell and possibly transfer after two years. This will be a bit harder since I will get set back two years, but at the same time, it will help me understand more about the type of career I want. I will most likely work and attend at Hartnell, I would also try to volunteer for our local veterinary hospital and gain some experience of it. This would really give me a good look into what it takes to be a veterinarian. Bottom line: I see continuing my education as the best way to reach my goals.