WIT play review
The cast from the play WIT posing for a picture at closing night for the play.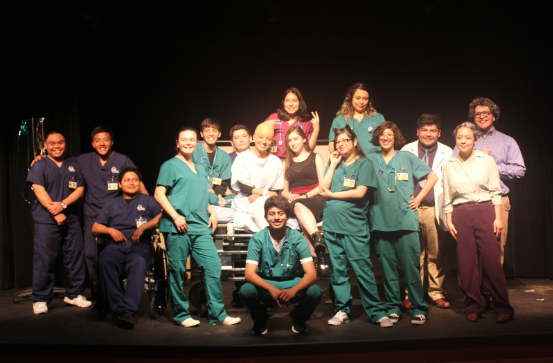 Advertisement
The spring play WIT focuses around Vivian Bearing (Citlatli Cardona), a professor of English literature, who has spent several years devoted to the holy sonnets of John Donne, which explain mortality in depth. She is diagnosed with stage four terminal ovarian cancer and throughout the play, she learns several lessons: kindness, warmth, and her acceptance of death through her nurse Susie ( Elizabeth Perez). Vivian's innate love for knowledge drives her to accept an extremely painful dosage of chemotherapy. Unfortunately, spoiler alert, she dies in the end.
Throughout the play, Vivian has flashbacks about, how she was tough on her students and didn't care about their struggles or problems outside of her the only thing important to her was poetry.
"At first I thought it was strange because I don't know what it was about but as the play went on I found it to be pretty cool," said senior Jackie Medel. The way the flashbacks were portrayed, the changing of scenery was done quickly, to get you in Vivian's head and that was pretty cool.
The Mullins Theatre was filled during opening night April 19, and people were excited to see what this play had in store. "After I had seen the film, I thought that the characters were so real, so vulnerable. The fact that Vivian, the main character, was so cold and strict on the outside, but inside she just wanted acceptance and inclusion made me want to do this play with the students. So many times we ignore the clues and hints that humans give each other about what we truly want from each other, and in the play that is a huge theme," said Drama teacher Veronica Pulido.
The whole crew of actors did an outstanding job playing their characters and setting a mood for the play. The nurses had different personalities, some of them seem to be more understanding of Viviane while other nurses were just annoyed and found her a nuisance. They used hospital gowns along with a hospital bed and an IV hospital stand which made it seem more real. Making this scene was harder than it looked, "Bringing WIT to life was getting a hold of the medical equipment and creating transitions since I did not have any at all. It is supposed to run as one entire act, and one entire scene," said Pulido.
In one of the scenes, Vivian is throwing up, rather than using sound effects she projected the sound herself and managed to make it sound realistic, this scene had the audience in tears making you sympathize with the character "This scene was interesting, being based from a real-life story gave a different feel, it made me sad for her," said Cynthia Bonilla.  "I really enjoyed the play it was different because it was more serious, it was about a lady with cancer who seemed to have regrets," said Luisa Sanchez.
Overall, the play was great, and the actors made this script come to life. Opening night was the best performance because of the cast's excitement really showed the first time they showed their characters, compared to their last performance where they seemed exhausted to have been doing this back to back days. I was happy with their performance I would recommend this play if you like sad stories, and I'd rate it 8 out of 10.