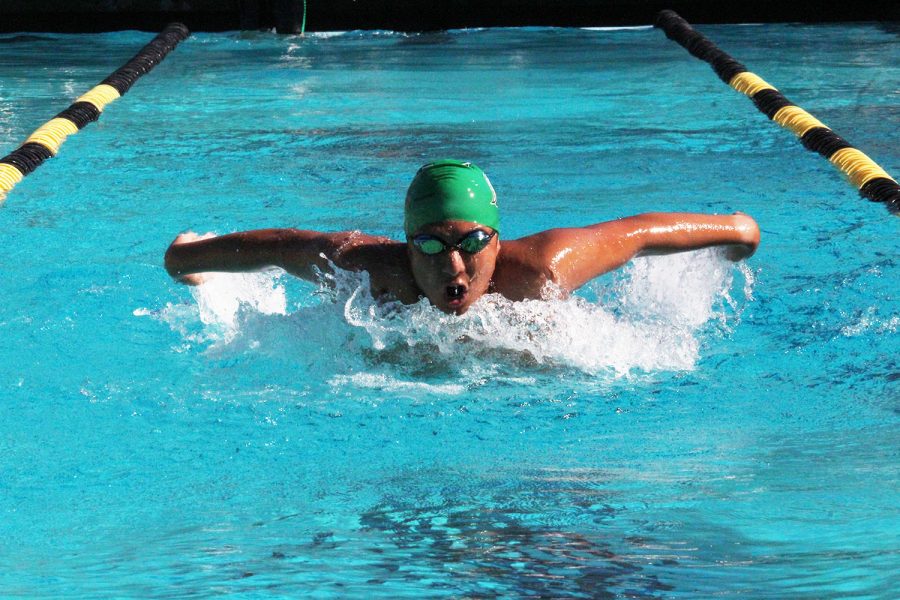 Many of us know the saying the third time's the charm, and it was definitely true for head coach Kristi Hussain, who in her third year was able to win a league title for the first time in school history.
Even though this year's boys' varsity swim team was relatively small, it didn't affect the outcome of their season, as they went undefeated. Hussain wasn't too worried about the team's size. She said, "Because we had enough depth, you don't need that many people."
In competitive swimming, swimmers earn certain points if they place third or higher. First place earns an amount of six points, second place earns four points, while third gets three points in total towards the team score. The team was able to earn first place by getting swimmers who came in third or higher. The swimmers were confident going into league, "We showed up to practice and practiced hard everyday," says sophomore Abiel Reyes.  
Emmanuel Gonzalez was the only swimmer who placed first in 100m freestyle at league championships. However, other swimmers also contributed to the team score, such as Hector Lara, Kevin Martinez, and Isaac Hernandez. The Trojans placed first out of six of schools which included Alisal, Soledad, North High, Watsonville, Seaside, and King City.
Second year swimmer, junior Jayden Morales said, "It (winning league) was awesome, especially since it's our first year to ever have a title. I'm hoping for us to go back to back next year." Morales competed in 50m, 200m, and 500m freestyle individually and in the 200m medley relay as a butterfly swimmer and the 200m and 400m relays as a team. Even though he had recently started swimming competitively last year, he said, "Soledad definitely gave us a run for our money, as they were also undefeated. After we beat them, we knew we would be league champions since we had beaten every team in the league this far."
A key member of the team's success was Reyes. "It feels good to be undefeated knowing that our hard work and dedication paid off," he said.  Reyes has been swimming competitively since freshman year. He participated in 50m, 100m freestyle as well as in the 200m, 400 free medley relay. He said he felt most accomplished in being league champions. "I feel I achieved the most at championships because that's where I PR in all my events."
Hussain also praised the effort of freshman Hector Lara. "Hector Lara is one of our top swimmers," said Hussain. Lara made the varsity team this year and competed in 100m back and 200 IM. "It's fun going against the top swimmers from other schools, but sometimes it gets nerve racking to race against them," he said. Swimming long distances can be quite stressful and nerve racking, "I just keep calm and pace myself for the first two laps, then I give my last two my all," he said.
Hussain was very excited to win the first title for Alisal swimming.  "All the coaches were very proud, and the boys really came together and worked hard,¨ she said. After their final dual meet against Soledad, they knew they had a great chance of winning. Both Alisal and Soledad were undefeated coming into the last dual meet. ¨Once we beat Soledad in the dual meet, I was confident we could beat them again at League Champs because we had more depth,¨ said Hussain.Her positive mindset towards the team brought the courage and confidence towards the swimmers, which helped them come out on top.