Boys' and Girls' Varsity Cross Country Preview
At the PCAL Center Meet II, Anahi Rosas placed 9th in the Gavilan Division. (Left) During the Salinas City Championship, Jose Velazquez ended up placing 1st against all high schools in Salinas. (Right)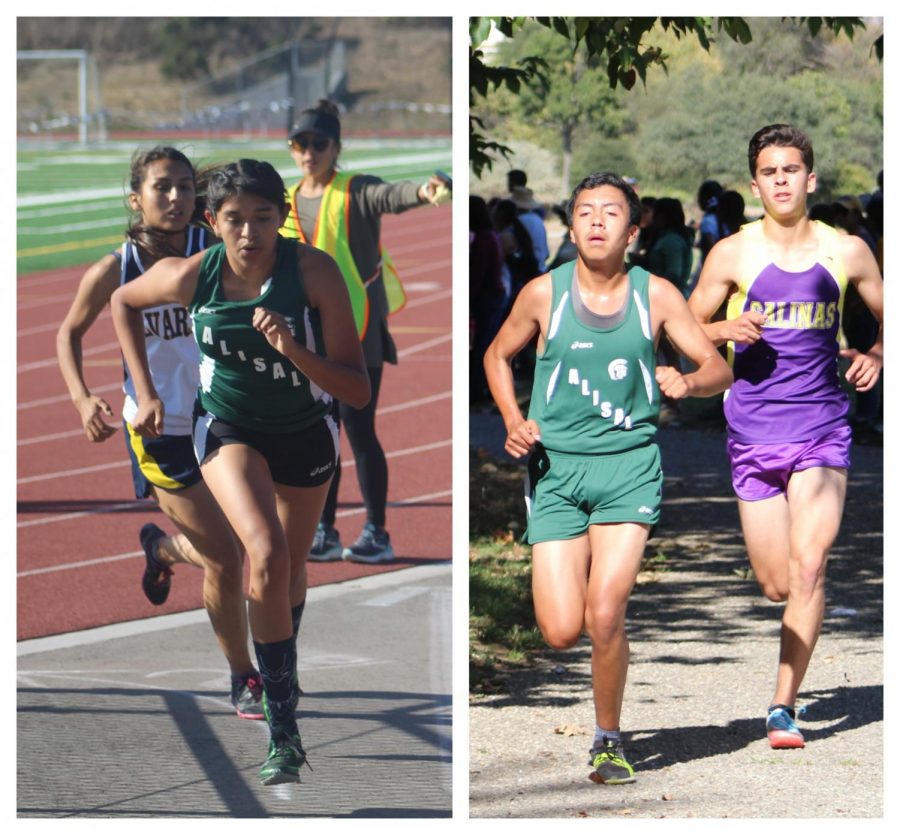 Advertisement
They say success breeds success, and that's certainly true for the Cross Country team who, after a successful season for both programs, has big numbers. The boys are looking to repeat as league champs and the girls are looking to improve on a third-place finish.
Head Coach Steven Munoz has high hopes for both squads and expects them to do their best. "I always expect my runners to practice and compete the best they can. Sometimes, we come up short in competition and sometimes we win championships. What matters is that they cross the finish line knowing that they gave it their all," he says.
The team has a strong bond with one another. "The sense of family and how we take care of each other, how we cheer each other on, I think most years our goal is to stay positive to keep it like a family that's working well and that they treat each other with respect," says Coach Eric Dixon. Also, the team is known for hills, their runners like running hills and that's where a score difference can be seen for both girls and boys. Coach Dixon says, "You can always tell when it's an Alisal runner on the hill because they are passing everyone."
The boys' varsity team returns three runners – senior Christopher Castro and juniors Jose Velazquez and Alexis Perez. "For the boys, I would say those individual runners look great," said  Dixon.
The experience these athletes have will help them succeed because they know what to expect and what to do when they face tougher competition. "King City is pretty stacked this year as they had the majority of their very talented varsity team from last year's return. Our goal for the boys is always our best and work together as a team to try and overcome the others," says Munoz.
Last year, the boys' varsity team took league for the second year in a row. They want the third league title which will be achievable, according to the coaches, if effort is put into the training and if they stay healthy and avoid unnecessary injuries. These talented athletes will collaborate together to get as competitive as the year before.
They are also looking forward to both CCS and State. This is important because the athletes will have to be focused and train very hard with the help of their coach to create the opportunity to make it to State. One dream Munoz has is to take a boys team to State. "It is the ultimate test of our ability. It is a goal I have had for the boys since I started coaching. To be able to bring a team to the State Championship would be an amazing accomplishment."
While the girls' varsity team does not have as many returners as the boys, they do have young athletes who will be able to develop their skills in the next few years.
The girls have been training all summer and they are still working on their speed to make it a good year. This year the girls are trying their best to take league, making it the first one in school history. The coaches say the team looks strong, but they still have to work to get to the level in which they were last year. Munoz says, "Our Varsity girls are all freshmen and sophomores and they were able to be very close in points to the top teams. We are young, so they are getting a lot of good experience at varsity, and if they keep working as hard as they have been, they could definitely compete against Gilroy and Hollister."
Sophomore Andrea Cornelio is someone to keep in mind she's a very fast athlete who will be returning and will be running on the varsity team. Cornelio said, "I do feel accomplished for the achievements that I have done, I am proud of my team for what we have accomplished this season. We had some ups and downs but we got through them. I do feel like I have a lot of responsibility on me."
Alexandra Campos is one of the new athletes in the varsity team and this is her first year running cross country. "It feels great and it's too much pressure because you don't want to let the coaches down," she says. Campos is only a freshman, so she is getting a lot of experience for her future years. The young girls are still learning what it's like to race with tougher competition.
Overall, the team is looking good and the runners are very excited for their league races and all the other ones to come. "We have a lot of runners who are excited about the sport and enjoy being out there. There is a lot of young talent leading the way on the girls and a lot of experienced runners on the boys side," said Munoz.