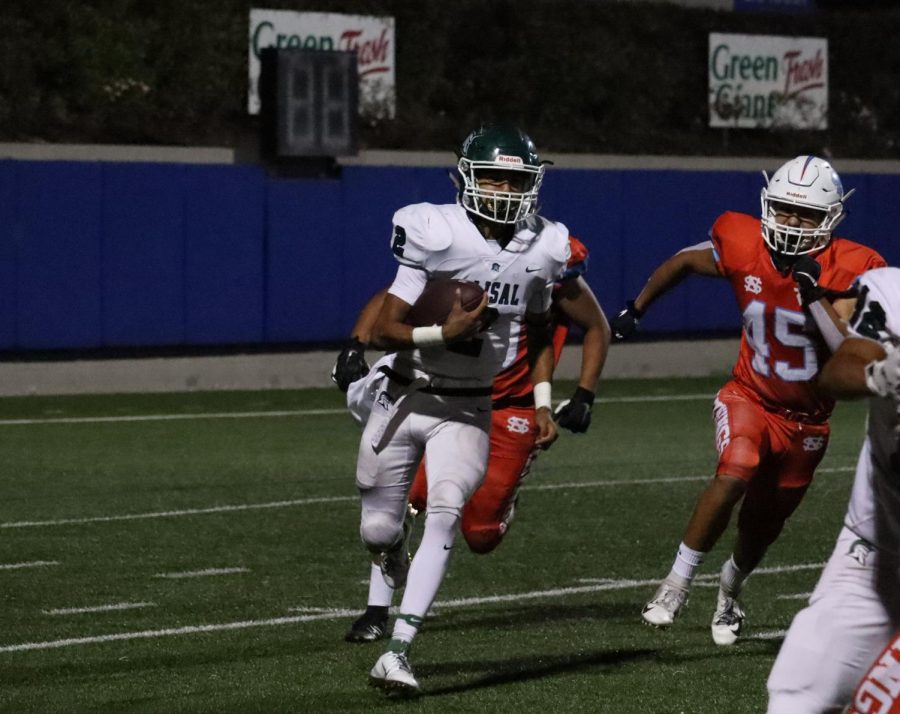 Last season, the Trojans missed the playoffs by one game. The team went 3-3 in league, and the game that kept them from a trip to CCS was their final game against Soledad, where they came up short, 27-28.
Head Coach Ceasar Chaidez doesn't want to dwell on last year, especially with a team sporting so many new faces. Of the 50 players on this year's squad, only 10 are returners from last year.  ̈ ̈Every year is new for us, we try to execute our assignment and technique," said Chaidez. ̈ ̈It's not necessarily a weakness, but they're just inexperienced."
One of the challenges they've faced so far was losing more than half of their starting offensive line from last year. This resulted in the coaches bringing up juniors and teaching them the plays. With only one returning starter player, left tackle Damien Garcia, the team has a lot to learn. ¨I have to be a role model and show it by my actions not my words," he says.
The team got off to a strong start, defeating Gonzales High School, 35-12. Senior running back, safety, corner, and linebacker David Maciel, felt "happy and proud" with the result. But they dropped their next three to Alvarez, Terra Nova, and Santa Cruz, to finish preseason 1-3. "Coming into the season as a team we have realized that we need to come together as one to make little to no mistakes," said senior Jerome Navarro. 
Despite the tough preseason, the team started league strong with wins over North Salinas, 35-22, and Scotts Valley, 30-14. Sitting at 2-0 going into their bye week, the team was feeling good. Junior quarterback Benny Chuca said, "You can feel the chemistry and all the love from the team."
According to Chaidez, the team's goals have always been the same – trying to win a CCS championship and taking it day by day. Garcia said, "I hope we get noticed as a team for our hard work and make it to playoffs".