Movie Review: Joker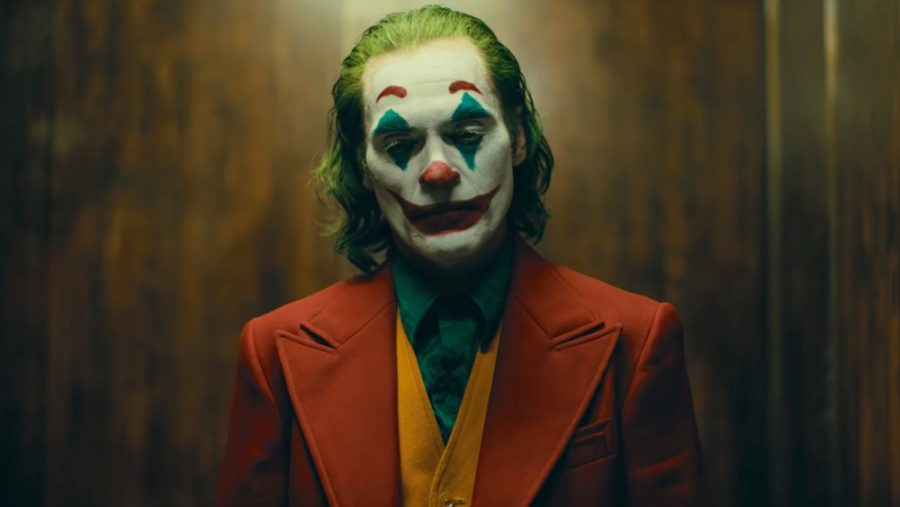 Usually, supervillains don't get their own movie detailing their past and reasonings for their behavior, especially when the superhero is Batman. But that rule has been broken by director Todd Phillips' Joker. 
Philips is better known for directing comedies such as The Hangover and documentary-style films like Project X and Borat. Most recently he directed War Dogs which hinted at a different sense in directing. In a recent interview with IndieWire, Todd Phillips says that he moved away from directing comedies to something a little darker because he didn't like the current culture. 
You can't go much darker than the character of the Joker. The movie takes place in 1981, the cinematography has a big part in making the movie great. The depiction of Gotham city is impeccable. Some of the scenes are very nostalgic about the 1980s. Showing some films like "Zorro" and "The Gay Blade" in the marquees. The cinematic shots range from establishing shots that show the various environments to full body shots that show the descriptions and ticks of the characters. 
One thing that bothered some was the fact that this movie is not part of the DC Movie Universe. In an interview with Cinema BLEND, Phillips said, "It's not really connected to that [DC Movie] Universe. And it was really intentionally not. I mean the original idea when I went to [Warner Bros.] with the idea was not just about one movie, but about a label – sort of a side label to DC, where you can do these kinds of character study, low-rent, low-budget movies, where you get a filmmaker to come in and do some deep dive into a character. So it was never meant to connect, so I don't see it connecting to anything in the future. I think this is just this movie, you know?" 
The movie follows Arthur Fleck (Joaquin Phoenix) into becoming Joker, a failing comedian, who has a mental illness called Pseudobulbar affect or PBA. PBA makes you have uncontrollable episodes of laughter or crying caused by a neurological disorder or brain injury. Arthur lives with and takes care of his sick mother, Penny Fleck (Frances Conroy), a former Arkham Asylum (a place for the criminally insane in Gotham City) patient. Arthur's psychologist was recently laid off and is not supplying his medication, which causes Arthur to have episodes of hallucinations.
Phoenix had big shoes to fill in since he was taking on the role of The Joker. Heath Ledger was the Joker for The Dark Knight, and Ledger took the role very seriously. The original joker, Jack Nicholson, set the first interpretation back in 1989's Batman. Fans wanted a better Joker since Jared Leto's take on the character in Suicide Squad was less than satisfying for most fans.
Arthur's breaking point comes one day when he is approached by three men on the subway. Arthur starts to laugh because of his disorder. The three men start to taunt and beat him up, and Arthur pulls out a gun kills the men. He escapes the police by taking a clown mask from a kid and blending in with some protesters. From that point, Arthur has committed to the path of chaos and murder.
In addition to Phoenix's performance, Hildur Guðnadóttir's soundtrack had a part in making the movie along with great music ranging from the 1930s till now.  The music sets the tone throughout the scenes. Using suspenseful songs like "Bathroom Dance" by Hildur Guðnadóttir gives the scenes a lot of character that helps the audience feel what the characters are feeling at that moment of the film.  Also using songs like "That's Life" by Frank Sinatra and "Smile" by Jimmy Durante when the Joker is feeling himself and starts dancing, letting his madness be shown. 
When I went to go see Joker, I had an idea of what to expect because I watched a few movie reviews. I understood that it wasn't the typical superhero versus supervillain movie. Joker took the comic book way of telling a story and took it to another level. The movie doesn't fit in any category; it has its own category. It's not a villain movie, it's a movie that shows a person,  Arthur Fleck, on his way to becoming one of the most iconic supervillains. 
This movie will impact the way comic book movies will be made in the future. The movie does a great job explaining what drives Arthur to becoming joker. It had everything Joker fans didn't know they wanted – an outstanding Joker, a good plot, and good storytelling. In my opinion, the movie is a 10/10, a work of cinema art.