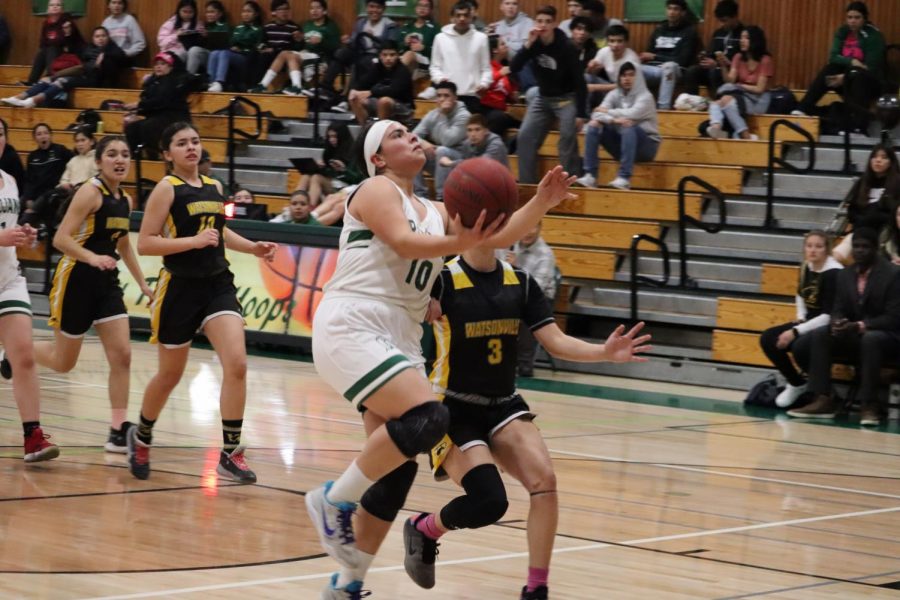 The girls' varsity basketball team had a solid season last year, going 6-4 in league, finishing 15-10, and qualifying for the playoffs. This year the Lady Trojans came back stronger and looked better as a unit according to their coach, Humberto Arista.  "The girls have good basketball IQ," he said. "I know my girls will step up to the challenge and we believe in defending our house." 
Despite the loss of some senior leadership, the underclassmen stepped up to fill in the gap. With returners Brianna Alvarado, Briana Mejia, Katarina Cabrera, Mikaela Arista, and Guadalupe Perez working together, the plan was to win league and go further in the playoffs, "I would see making playoffs this year especially important for my team and I. We've put many hours into training and learning our plays to better ourselves as players," said Cabrera.  
Joining this year's squad were sophomore guards Karizma Ruiz and Jacqueline Rangel; senior guard, Jacqueline Torres, and senior forward Michelle Torres. All of them were ready to step up to the challenge and be assets to the team. "I feel accomplished playing on the varsity basketball team because I contribute to my team by attending all practices and games,"  said senior forward Michelle Torres. Returning junior Mikaela Arista believes familiarity with each other helps, "We've been playing together for so long, I think we have really good chemistry and we move the ball really well when we all play together."
The team went 10-4 in the preseason. Their strong start has carried over to league play where they started 9-0, which set up a showdown with second place Christopher in the final game of league. The Trojans were assured of no worse than a share of the title going into the final game, but there were some butterflies.
"There was a lot of pressure for an undefeated season," said Cabrera. Mikaela Arista said she was nervous, but confident because they beat them in the first meeting. In the game, both players agreed that a lack of ball movement and shots that didn't fall led to the loss..
Despite losing to Christopher and having to share the title, the girls qualified for CCS. They were unseeded and had to travel to San Jose to play the 10th seed, Silver Creek. They came up short, losing 46-33. Both Arista and Cabrera were proud of the team for making it to CCS.
Cabrera, a four-year letterman, said, "I had a goal to win a title, and we did." Arista, named league MVP, felt they had a successful season because "the highs outweighed the lows."