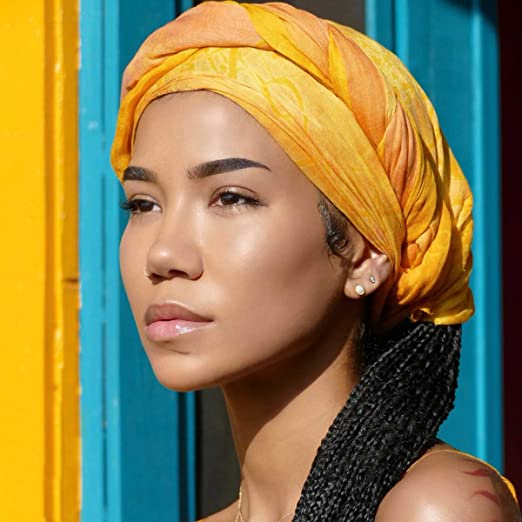 Jhene Aiko, an American singer and songwriter, is mostly known for her Alternative R&B/Soul style of music. Her career started when she appeared in several music videos for an R&B group, B2K. In 2015, she got nominated for 3 Grammys – Best R&B Song, Best Urban Contemporary Album, and Best Rap/Sung Collaboration.  
My very first discovery of Jhene was with one of her very top songs, "The Worst", which was released in 2013. I didn't really know much about her, the song just happened to be next on some random playlist I was listening to. From the very first time I heard it, I had completely fallen in love with her music. At the time I'd never heard anything like it before, it had a completely different vibe and it was totally distinct from what I was listening to. 
Her album Chilombo, (which is her legal surname) "means 'wild beast' – they're strong, confident, and graceful," she told Billboard. The album's instruments consist of sound bowls that are used during meditation and spiritual healing. Her hope is to be able to open different chakras within the human body. "It took me a while to understand that one of my purposes as an artist is to help aid people in the healing process … I'm incorporating these healing instruments into my music so that I can really put that intention into my music to heal," she told ELLE.
This long awaited project had her fans waiting impatiently since her second album in 2017. It contains 20 tracks with seven of them having other featured artists like: Big Sean, H.E.R, Future, Miguel, Ab-Soul, Dr. Chill, Nas, and John Legend. 
In my mind, the top 5 songs from the album are "Triggered" (freestyle), "None Of Your Concern" ft. Big Sean, "B.S." ft. H.E.R, "P*$$Y Fairy" (OTW), and "Happiness Over Everything" ft. Future & Miguel. (Please note: The album contains explicit lyrics and themes.)
"Triggered"
The second song on the album, she repeats the word "Triggered" several times throughout the song. The tempo of the song goes slow and she is basically describing her feelings from the past and says she will set off something to happen for the trauma the relationship caused. It was released in May of 2019 following her break up with Big Sean, although many people referred to it as a diss track she cleared up the air to Rap-Up saying, "it is a moment of talking things out of frustration and passion." 
"None Of Your Concern" ft. Big Sean 
Before the release of this song Big Sean had put out a single in July 2019 named "Single Again" which featured Jhene's vocals along with Ty Dolla $ign. "None Of Your Concern" goes into depth once again on things about her past relationship with the rapper. She continues to describe how she viewed everything and how they both need to move forward and what they're doing with their lives now shouldn't be each other's concern anymore. The rhythm of the song is a slow relaxing beat.
"B.S." ft. H.E.R 
"B.S." is more of moving forward from a relationship. It talks about the idea that she is completely over him and will now do the things she wants. The beat in this song is still the same as in her other songs, but it does have a little bit more upbeat. In H.E.R's verse she mentions how the person is stuck in a bad place based on the bad relationships she's seen him in. She also talks about how her new relationship has bought her so much happiness. To finish off, in Jhene's last few verses she mentions how seeing his new relationship boosted her self-esteem. 
P*$$Y FAIRY 
Although most of her songs are explicit because of the words, this one in particular is somewhat different. As we know she likes to have some form of healing incorporated in her music, which is determined by the instruments. According to a rep for Aiko in Fader, "The song is made in the key D of the alchemy crystal sound bowl, which is the sacral chakra (sexual organs)," Aiko says. The song basically  describes how the woman's body puts the male in some kind of hypnotic state. 
Happiness Over Everything ft. Miguel & Future 
A track that basically explains that your happiness matters no matter what other people say or think. Miguel and Future who are featured in the track help Jhene with keeping uplifting energy. The track starts with Future and Miguel talking about how they want a woman who is confident in what she wants. It then goes into Jhene talking about how she's reminiscing of how her and a guy meet hoping he didn't get the wrong impression. 
Overall, I think this is a great album. It definitely had plenty of songs and while most of them refer to relationships, it's still an amazing album that some people can relate to. The rhythm of her music is very soft and it gets you in a really calm mood, but allows you to sing along. I'd give this a 5/5 based on her soft voice, the rhythm of her music, and the messages she gives.