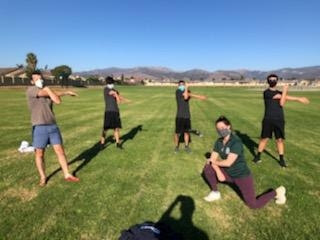 Sports are an important aspect of school and many students feel the need to participate in a school sport. This year has been full of challenges for all. With the school closing, many were left anxious and worried about whether or not they would be able to play a sport this year. 
Sports are important, but due to COVID-19 the California Interscholastic Federation, the state's governing entity for high school sports, originally decided to delay any contests until December, but that has now been extended until January thanks to the rising number of cases in California. No timetable has been set for actual dates of contests yet.
In October, in preparation for Season 1 – football, cross country, and girls' volleyball – athletes were allowed to do conditioning. According to Leonel Garibay, a junior who is in cross country, conditioning was done in small groups of 15 people for each sport, including coaches and student-athletes. Garibay felt a "disconnection to the sport" as they were not going full-on out for conditioning like the past years. He said, "I'm glad I can participate in cross this year, but it's just not the same. I don't want to sound like I'm complaining, but there is a significant difference." 
Conditioning began with a daily temperature check and students and coaches had to fill out a wellness sheet in order to assure that everyone is asymptomatic to COVID. According to cross country coach Steven Munoz, "Masks are mandatory throughout the whole practice and everyone has to maintain a 6-feet distance from each other." Each sport is separated into their own sections and they are not allowed to intermingle. 
There are many questions that need to be answered if sports are to return. For example, how would transportation work? Would it even be safe to go to away games if it happens? According to Athletic Director Jose Gil, "It is going to be difficult to try to travel long distances on district buses or vehicles, because of the transportation protocols. Playing locally where athletes would get there with parents seems more reasonable for now." 
Gil is hopeful for sports and trusts that if the cases come under control then, and only then, can sports be brought back. He says,¨If this means that some sports seasons have to be cut short, or altered, that is better than nothing at all.¨ 
Students and coaches are also extremely hopeful for sports to come back and to go on throughout the year. According to Gil, "Ideally, we play shortened seasons that are safe and fun for the athletes. Even if it means having to think outside the box and schedule in city contests." 
While sports are important to both students and coaches, the safety of the students and the coaches continue to be the most important factor. Our own actions and precautions, and perhaps the vaccine will help determine whether or not sports are played this year.