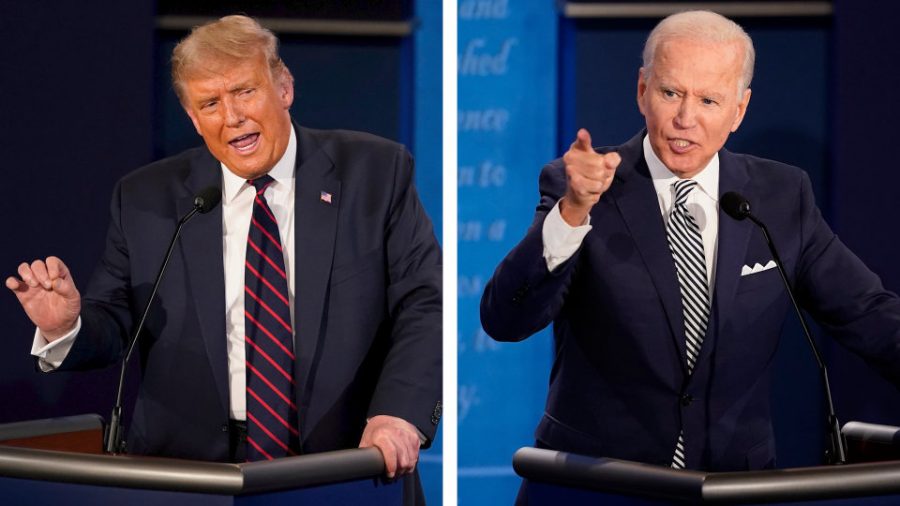 Photo credits: Pool/Getty Images; Morry Gash/Bloomberg News
2020 has been one of the craziest years. Challenged by a pandemic, the majority of the U.S. stayed home for months following state regulations. March 13th was the exact day President Donald Trump officially declared COVID-19 as a national emergency. States began to implement restrictions with mandatory face coverings and social distancing. Due to the virus, more people were inclined to vote by mail which led to Trump questioning mail-in ballots. This was followed by Louis DeJoy, Trump's appointee, sabotaging the US Postal Service. The road to the election made it one of the wildest one yet.
This election was one of the longest one yet. The Associated Press called the election for Joe Biden on November 7th, with Biden having 306 electoral votes while Trump had 232. This election took longer than usual because states had to make sure to count every ballot carefully due to COVID and ballots arriving on election day. Trump did not take his loss lightly, with him losing key battleground states like Arizona, Georgia, and Pennsylvania, he demanded that there'd be recounts and refused to concede. He filed multiple lawsuits in multiple states claiming they committed voter fraud. Despite his multiple charges, Trump has yet to win a single lawsuit. Arizona and Wisconsin have certified Joe Biden as the winner (both of which Trump won in 2016).
During the weeks leading up to the election and after, polls were sent out to students and staff. The polls asked questions like "Who would you vote for if you were able to vote?" and "What are your biggest issues in the country?" Both polls combined accumulated over 896 responses. In the poll sent out before the election, 75.6% of staff and students said they would vote for Biden. 3.1% said they would vote for Donald Trump and the other 21.3% said other or none. On the second poll sent out, with the "other" option removed over 92.2% said they would vote for Biden and 7.7% for Trump.
Many students and staff members got to share their thoughts on the election and their overall political standpoint. Senior Jennifer Santiago, who had pre-registered to vote, said, "Joe Biden is the only reasonable candidate out of the two. Trump is incompetent and thousands of Americans are dying because of that. He is a terrible human being. Biden actually listens to science and is ready to spring into action once he takes office. What would Trump do? Nothing, like he has done the past four years. Oh and also, voting for Trump would've been really embarrassing in the eyes of the world." 
Joshue Zamudio. on the other hand, says he would've voted for Trump if he could, "Biden isn't good or better than Trump. He's about the same amount of evil if evil has any part in this. The difference is that one masks it while the other goes off clearly. Trump is less likely to get his laws vetoed and canceled and is less able to create a negative impact thus making him my choice." Zamudio added, "Biden has been known to get touchy and has creep vibes. I'd even call him a pedophile. While Trump may be equally horrible, he's open about his decisions."
Senior Gustavo Canizal  was one of the lucky ones to be able to vote, "I voted for Joe Biden of course because I recognized that with Trump in the office that there was no hope for anyone that isn't white or rich." When asked how he felt when he dropped off his mailing ballot he said, "My first time voting actually opened my eyes that I should become more aware of what's going on in not only America but also around the world, I realized that there's still lots to do to become more equal."
Jared Hart, an English teacher, voted for Trump, " I voted for Donald Trump because of how he lowered taxes, promoted better deals, and nominated judges that support the constitution rather than independent interest groups and partisan ideology. While I may disagree with his personality, I am a firm believer in limiting the power of the federal government and promoting individual freedom and the democratic party operates in complete contrast to that idea so I will never vote for a Democrat regardless of who is running." Unlike the others, Hart voted absentee because he feels it works well because it offers more control and less of a chance for fraud.
On the other hand, English teacher Steven Munoz voted for Biden saying, "Joe Biden because he is the stronger candidate by far. He is better for our country. Donald Trump is the worst thing that has happened to this country in decades and he has turned our country backward in a negative way. There is so much hate, which he fuels.
One is left to wonder what comes next. With such a crazy year, it is uncertain how the weeks leading up to January 20 will be. Trump has yet to concede and refuses to say when he'll drop the lawsuits accusing voter fraud. A second stimulus check is being planned for approval along with the COVID vaccines, which will start making it into the arms of Americans this week. The only other election drama will happen on January 5, 2021, when Georgia holds a runoff election for two senate seats. If it goes the Democrats way, things will be very different when Joe Biden and Kamala Harris take office.