Review: "The Queens Gambit"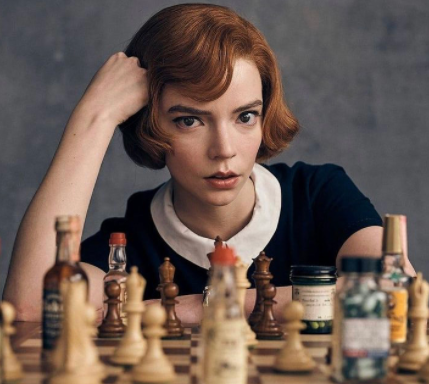 You're scrolling through Netflix and you come upon a new series named The Queen's Gambit. You read the words, "In a 1950s orphanage, a young girl reveals an astonishing talent for chess and begins an unlikely journey to stardom while grappling with addiction," which for some makes it an immediate must-watch, and to others not so much. Chess isn't usually must-see TV, but when it involves drugs, alcohol dependency, and emotional problems, you decide it's worth a shot.
Both written and directed by Scott Frank, The Queen's Gambit is an adaptation of Walter Tevis' 1983 novel of the same name. The series follows Beth Harmon ( who is played by both Isla Johnston and Anya Taylor-Joy) on a journey to become the world's greatest chess player. 
Beth finds herself an orphan and is sent to the Methuen Orphanage for Girls where she meets Jolene (Moses Ingram), who quickly befriends Beth at the orphanage,  and the janitor Mr. Shaibel (Bill Camp). Shaibel introduces her to chess and Beth shows herself to be a true prodigy.
 With Beth's discovery of the game of chess, she also develops a physical and emotional demand for tranquilizers, which she convinces herself that she can't succeed without their help.
  Beth is eventually adopted by an unhappy couple, Allston and Alma Wheatley ( Patrick Kennedy and Marielle Heller). While the marriage of the couple fails, the relationship between Alma and Beth grows. Similar to Beth, Alma struggles with alcohol and drugs. Their journey together in the series lets you see Beth grow as a player and a person. Touring the country to compete in chess tournaments, you see win after win; however, what makes this series so real and fascinating has been Beth's passion for winning and most importantly improving. 
  As Beth rises in the ranks of professional chess, she becomes entwined with her male opponents. Harry Beltik (Harry Melling), after she beats him for the Kentucky state title at 15, becomes fixated with Beth; then there's D.L. Townes (Jacob Fortune-Lloyd), an older player who catches Beths' attention immediately; and Benny Watts (Thomas Brodie-Sangster), a player who first refuses the abilities of Beth before ultimately helping her prepare to take on the best chess players in the world – the Soviets.
A lot of what makes The Queen's Gambit oh so satisfying comes from the character that Taylor-Joy brings to the screen. Taylor-Joy's development of the character makes you not want to look away as Beth grows older and more confident through her clothing, hairstyle, and makeup. Her expressive face and even hand gestures have been a key component of what makes the chess matches so interesting. Her focus on the here and now helps keep its viewers there with her, especially during chess matches where there are so many unspoken words. In order to understand what's happening in her competitions, Taylor-Joy understands that people are watching her.
The Queen's Gambit spends little time teaching the rules of the game of chess, however, under Frank's directing you don't need to understand how the game is played to enjoy the show. The tension that builds, the movements, and strokes of the pieces moving around the board leave you hypnotized, watching every move, and ultimately leaving you at the edge of your seat. 
What had initially attracted me to the show was chess. I used to play chess when I was younger, but slowly stopped over-time. I wasn't great at it either; I knew the basics but that was mostly all. However, after watching this show it has made me want to play again. And I guarantee even those who've never played before will have you thinking about playing chess. With a total of seven episodes each one being an hour long; I would say these were seven hours well spent. Overall, I give this show a 10/10 rating for me. Definitely one of my favorite series this year, so what are you waiting for? Log onto your Netflix account and start binging.
Leave a Comment