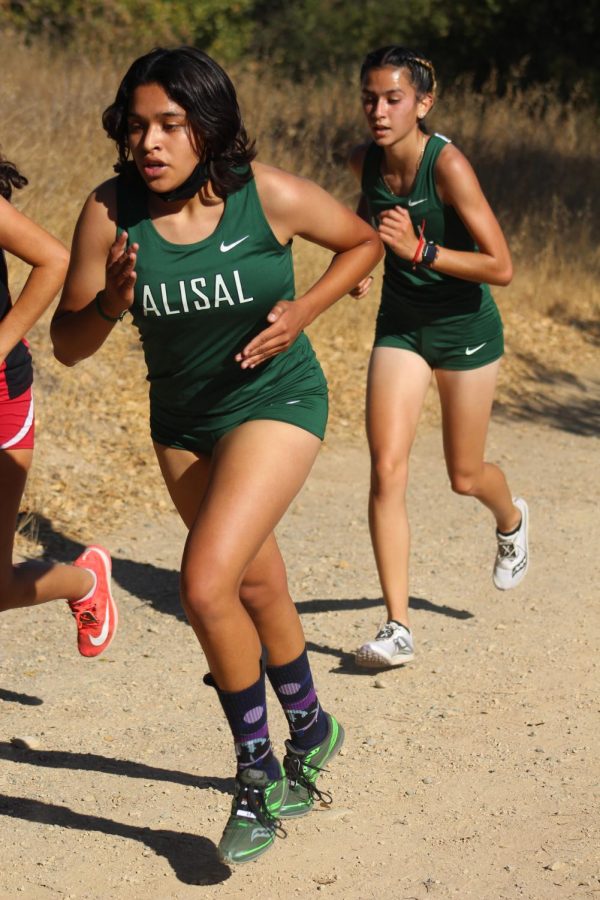 After an undefeated season last year, the varsity girls cross country team has faced intense competition against other teams in the Gabilan Division. Head Coach Steven Munoz was sure the competition would bring their A-game. "Our main competitors are definitely Hollister, Salinas High, and Gilroy, they just have solid all around runners," he said.
The Hollister and Gilroy teams pushed the girls into two, third place finishes and one, second place finish in the Center Meets. This put the girls in a tough situation. In order to win the league title, Hollister must place 3rd while Alisal takes first. This seems like a longshot, the girls are training hard. "I believe that Hollister and Gilroy are beatable because they have a lot of inconsistent races and we just need to be on when they're off," said Munoz. 
The team consists of seniors Anahi Rosas, Andrea Larios; junior Terra Ward, sophomores Carolina Nava, Abigail Bustamante, and freshman Massiel Hernandez. An injury to senior Andrea Cornelio has kept her out of competition. According to Munoz, she has been working her way back and improving her time. Her current time would put her in the fifth varsity spot, however, Munoz was hesitant to rush her back. "After her injury, we slow-played Andrea Cornelio when she came back a month ago, so she wouldn't feel the pressure and next race put on varsity told her not to worry and now she's getting back into the groove. 
With only two seniors, Munoz sees the team's youth as a huge strength, and his runners agree.  "I feel like I have an advantage starting off as a freshman because I have more time to develop my skills and hit a 19:00 in a 5k by senior year," said freshman Massiel Hernandez. 
Despite the odds, Munoz feels his team can walk away with the title, if everything goes right.. "We have an outside shot at being league champions if the stars align we'll win, but it's a long shot," said Munoz. "We need three up front, Anahi, Abby and Andrea as the 1,2,3 punch. They've all shown their strength when it comes to running up front in races throughout the season, they just need to put their talent together and perform on that day."