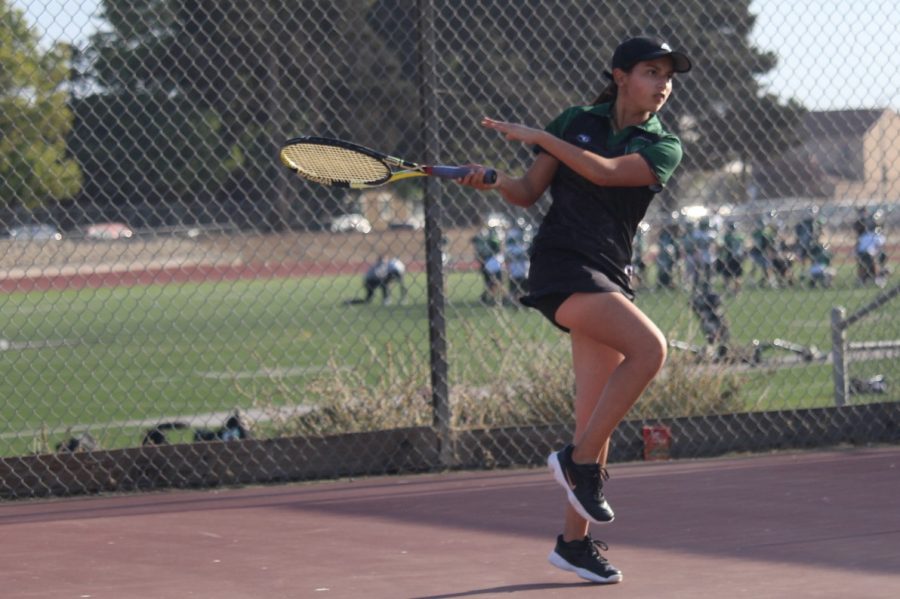 After going 6-2 in a Covid-shortened season, the girls' tennis team was ready to get back to make their mark in the Mission division of the Pacific Coast League. 
Coach Ozman Ozel, who has been around for two years, had very high expectations for the team. Ozel believes his senior players are very strong athletes, and they have very little need for improvement. 
"The girls do try their best, and if they are falling behind, I expect them to at least push the game to a tiebreaker. Even if they lose, I still see their commitment," he said. 
The team consists of 20 players, with 12 returning seniors. He has four star singles players – Elizabeth Figueroa, Belen Alfaro-Puga, Guadalupe Ocampo, and Deniss Segovanio.  Ocampo has been feeling very positive about the team's capabilities. "I think all of us are on the same level of skill, and the team should focus on giving it their best on the court," she said.
Seven players – Hannah Lopez, Alyssa Gonzales, Alondra Moya, Jania Sanchez, Alondra Corral-Ramoz, Leslie Villalobos, and Dennis Segoviano – have played up to three seasons, and Isela Bravo returns for her second season. These girls form the core of the doubles teams, but Ozel has been mixing up the doubles in each match to figure out who works better with each other. Hannah Lopez, who has also been playing singles when needed, feels she has room to improve. "It takes time to get used to your partner, as you aren't familiar with their positions and techniques." 
There are 8 new players this season – freshmen Teresa Ochoa-Villicana, Marisol Botello, and Monica Garcia; sophomore Yesenia Alfaro-Puga; and juniors Carolina Cardenas, Adamaris Jarquin, Mia Calderon, and Shareni Lira.  Teresa Ochoa-Villicana has been learning a lot from the more experienced players. "I hope we're able to catch up before the older players leave, as we're very dependent on them."
The team finished at 6-4 and has a good chance of winning league. They need to compete in the league finals, where there would be two singles and two doubles matches. If they finish on top of their division, they would play the 3rd placed team of the Gabilan Division, and a victory in that match would advance them to CCS.  
For the league finals, Ozel is expecting Natalie Gutierrez and Hannah Lopez to play one of their double matches. He believes the two have been showing excellent team work during their games. For those single matches, he is still undecided about which players will go. 
Regardless of the outcome of the league finals, Ozel believes it has been an amazing season overall. "The girls have been playing excellently. I expect them to never give up on a match or a point, even if they are falling behind," he said