Macias awarded scholarship for Kendo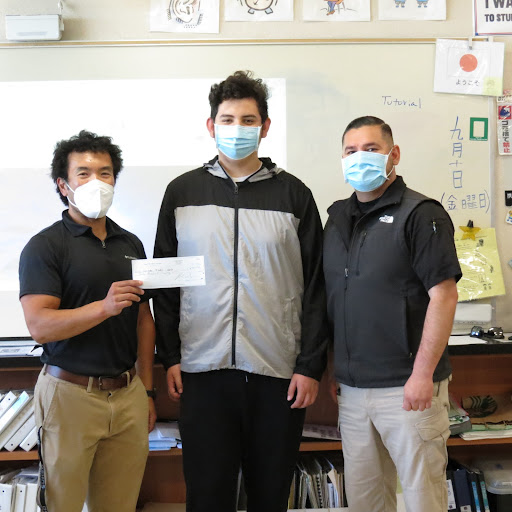 On September 10, 2021, senior Damian Macias was awarded a scholarship by the Salinas Police Officers Association. This scholarship will cover Macias' Salinas Kendo Dojo expenses, as well as his Northern California Kendo Association dues, and All US Kendo Association dues for 1 year. He will also be able to keep his equipment so he can continue to practice after high school.  "I feel honored and appreciated by all the people who helped me and provided me with the resources to make it possible," said Macias.
Macias earned the award for his dedication to the dojo and the club.  His history with kendo started in 9th grade when the Kendo Club first started, he was one of the original participants. "I am filled with joy to be a returning member of the kendo club and dojo…I really want to make the most of my last year and influence the trainees that follow," he said.
As a praticianist of kendo, Ryoji Bunden feels that Macias was deserving of the scholarship because "Damian works hard in the classroom and kendo club." Kendo is a Japanese style of sword fighting. The way you participate is by using bamboo sticks called "Shinai " and you use these to strike your opponent on the head (men), wrist (kote), and the abdomen (Do).  
Bunden is the coordinator of the Kendo Club and he has family history with the Salinas Kendo Dojo. His grandfather was the one who opened the first dojo here in Salinas. His grandfather, Takuma Bunden, started the dojo 50 years ago in 1970 because he was living in Salinas and the grandfather made a commute to and from Salinas and San Jose and was advised by his Senseis to open a dojo here in Salinas.
Despite having a small number of participants, the Salinas dojo is known for having some of the best instructors. Yuji Onitsuka and Jimmy Eitoku are two of the current instructors and have actually competed in the AUSKF and the World Kendo Championships, with Eitoku taking a double gold in 2014 and being the Captain of the NCKF Senior Team. Onitsuka was the coach of the United States Men Team that participated in the 13th World Kendo Championship.  "I am very happy to have Alisal High students practicing kendo. I have often dreamed about having a kendo league of all the area high schools and colleges in the Monterey County area," said Eitukou.
Leave a Comment
Your donation will support the student journalists of Alisal High School. Your contribution will allow us to purchase equipment and cover our annual website hosting costs.