Army on Campus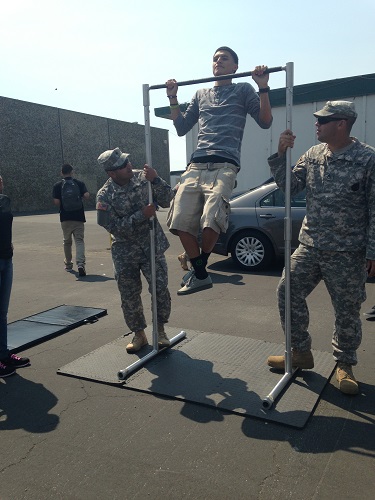 Advertisement
Hang on for a minute...we're trying to find some more stories you might like.
On Monday, September 9th, members of the Army visited to promote the various job opportunities available in the army. Since many people aren't aware of what exactly the Army does, besides fight, Staff Sergeants Johnson, Philippi, and Michel came to provide the students with information and some fun.
There were three stations, the first was the Explosive Ordinance Disposal (EOD) which is for the disposal of explosives. The EOD is a robot which goes out to look for bombs so there is no human life being put at risk. The other two stations were either 10 pull ups or 10 push-ups to get a free water bottle. JC Alberto Soto, grade eleven, who is taking the army into consideration and did the pull ups station said, "This was a good experience in how they introduce you to the army system."
According to Staff Sergeant Johnson, the Army does not only fight and go out to wars, but it also helps people obtain an education. With both a wife and children, Johnson states that having a family is no difficulty. On the contrary, his children love to travel and his little daughter wants to go to Germany already. Then again, the army isn't just one or two years, there is a contract of a total of eight years, with six for the training and the other two are away from the Army just in case of war and you're needed to be brought back.
When people think of the army they immediately think of the negative aspects of it like war, fighting, and death. On the contrary, the percentage of men who got injured in Iraq was about five percent according to Staff Sergeant Ivan Perez. Perez, who has served in the army for almost twelve years, says that he thinks of it as, "The beautiful career that I have." His view on his employment is that he is proud because not only is he serving his country, and all the people, but he also has job security and a solid resume to help him when he finishes his time in the army. There are so many benefits from joining the army; money for college, health care at little or no cost, generous vacation time, and complete compensation along with many more additional benefits according to the Go Army web page.
There are well over 150 job opportunities available in the army; the ASVAB is a free test that allows you to view your military career options. For additional information you can visit www.goarmy.com. And as for anyone i¬nterested in joining, Perez says, "You come in with a goal set in mind to serve your country, and you get an education in return."