A different summer
Advertisement
Hang on for a minute...we're trying to find some more stories you might like.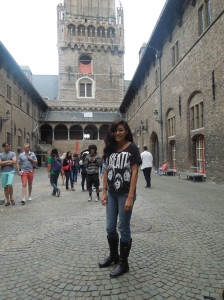 For many students, spending the summer overseas would be a dream come true. Luckily, for Genesis Politron that dream became a reality. She spent nine days traveling around France, Belgium, Switzerland and half a month in Japan with a host family.
Politron was able to go to France with seven other students from Alisal High through the French Club and Madame Olvera, who has taken many kids from Alisal over the last few years and who was also her French teacher; and for Japan, she went with 8 other people through an association.
Prior to the trip, Politron was concerned about her language skills. "I was nervous but I knew the basics. Doing hand gestures really worked when trying to communicate. I was nervous about pronouncing words right when talking to people from France and Japan, but I tried as hard as I could."
She fundraised about $2,000,  along with the French Club, organized car washes, sold candy apples, chocolates, and they hosted movie nights.  "I had to fundraise a lot. I didn't make much for my French trip but the association from Japan covered a lot of the expenses for the Japan trip."
The flight to France took 9 hours and the flight to Japan took about 11 hours. "It felt like I was on it for a full day!" Being in a foreign country away from your family can be overwhelming to many teenagers. "I missed them but I tried to enjoy every little thing about my trip."  She was nervous about staying by herself with a family that she had never lived with before but she was excited more than anything. "I really enjoyed staying with the host family in Japan," she said. When traveling in France, Belgium and Switzerland, she stayed at hotels, usually with another female staying in the same room.
Since it was the first time that she has ever gone to both Japan and France, she was nervous. "I was excited and nervous. I had never traveled anywhere other than Mexico, I had been looking forward to it for months. For Japan, I have waited years to be old enough to apply. My sister went through the same association when she was my age." When in France and Japan, she noticed how diverse both countries were compared to the U.S. "The homes in France and the building are way different. Japan is filled with trees unlike here; both are beautiful in their own way."
Even though both countries are beautiful and unique in their own way, said it was difficult to choose between them because they are so different and each has its own history. "France had the EiffelTower and Japan had the PeacePark."  The HiroshimaMemorialPeacePark, which was built in 1954, is dedicated to the city of Hiroshima which was the first city that experienced the first ever nuclear attack by the US. It was also a memorial for the victims who suffered and died by the bombs.
According to Politron, there was nothing that she disliked about both trips. Of course, along with visiting different countries, you have to taste the food there. "The food was very different but, I still tried it." While in France, she got from place to place by walking, taking the metro, or the subway. In Japan, she took the regular train and the Shinkansen, a bullet train that has a speed up to 320 km/h.
As fast as the bullet train went, it didn't match the how fast her summer flew by.  "I learned a lot. I learned the different culture and the different way of life. Everything is so different, it's amazing to see." she said.  "It's like a brand new world. It's nothing like you've imagined before." Politron recommends students to go on oversea trips, make new memories, and learn new experiences.
Through Politron's experience traveling to foreign lands; it's obvious that going overseas is an amazing adventure that few people get when in school. You learn new things about the place you're visiting, you make new memories, you get to experience how other people live across the world but most importantly,  it's a life changing experience you'll never forget.