Alumni Day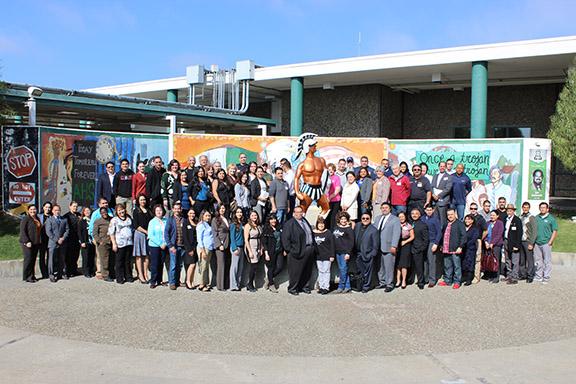 Advertisement
Hang on for a minute...we're trying to find some more stories you might like.
While every school has graduates, not many have the number of graduates who love coming back to their school. Many successful alumni returned to Alisal on February 20th, for the second annual Alumni Day. Graduates from all walks of life returned to talk during three 35 minute sessions. The jobs ranged from a college counselor, to a Netflix design engineer, to someone serving in the National Guard. Students definitely discovered many different possibilities for their futures. Senior Jose Negrete said, "The presenters that came to my class were interesting. I got a better idea of what I want to do in life."
An aspect that helped students relate to the presenters was that they understood what it is like to be a Trojan. "Alisal is often viewed negatively and seeing so many successful Alisal graduates showed that negative perception is wrong," said junior Cindy Montoya.
In order to help overcome that perception, Principal Ernesto Garcia asked students to dress professionally. By dressing up, the students helped set the tone of the day's importance. Gisselle Cortez, a junior, said, "I dressed up because I thought it would show the alumni that we were serious about the event. It was nice that a good amount of students did too."
Many students, staff, and alumni felt that Alumni Day was a great success. After the presentations the alumni returned to the small gym.  Garcia asked them if they would like to return next year and they all responded with enthusiasm. Students also responded well, a majority of them enjoying the presentations given to their class. Senior George Rosales felt that it Alumni Day was a good experience. He said, "It gives us an outside perspective on the real world and if we work hard we can achieve success."
Along with any successful event, Alumni Day took planning. The alumni had to be contacted and the planning staff tried to get as many alumni as possible to attend. Senior Elizabeth Perez said, "It took about a month to plan out the whole thing. Rachel Torres was a big help. Without her, many of the alumni wouldn't have attended. She began by contacting the alumni that came to last year's event and they helped spread the word. Many were interested and even began contacting her because they wanted to give positive messages to the students.  She said, "Alumni coming back gives students the message that if they made it, you can do it too. It was also nice to see the alumni happy to see each other after many years."
Last year, the planning committee had three months to prepare the whole event, but according to ASB director, Tiffany Ayala, Alumni Day went smoothly with only one month of planning. Torres recruited students to set up the small gym, parents donated breakfast provided to the alumni, and ASB students made posters to welcome them. Hours before school started ASB, Link Crew and AVID students prepared for the arrival of the alumni. They had to arrive at school at 6 a.m. and were divided to blow up balloons, hang posters and greet alumni from the entrance of the school all the way to the small gym. Once escorted to the small gym, they were provided breakfast, handed their schedules and heard a few words from Garcia and a few other Alisal staff. After this, ASB and AVID students directed the alumni to their designated classrooms.
At the end of the three presentations, they were escorted back to the small gym to hear from Garcia and from other staff and alumni. They finished the day in the amphitheater to take a group picture with the Trojan statue and finally received lunch in the small gym. Garcia said, "Alumni Day is great because students are able to relate well with the alumni. It's also great for the alumni because some haven't seen each other since they graduated and they're always excited to see each other."
With the third annual Alumni Day next year, Garcia hopes for a more extravagant event, especially since next year will be Alisal's first graduating class' 50th anniversary. Garcia said, "Next year, I plan on making Alumni Day even better and have more alumni be able to attend. Based on this year's outcome, I'm hoping it will."