Two Boxing Icons Collide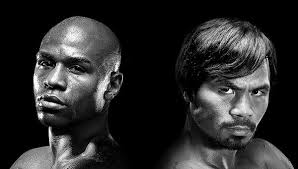 Perhaps the biggest fight of the century is set to happen on May 2nd 2015. Two of boxing's biggest names will meet in the ring for a long anticipated fight. The fight will take place at the MGM grand in Las Vegas, Nevada between undefeated champion Floyd "Money" Mayweather and Manny "Pac-Man" Pacquiao.
Mayweather stands at 5 feet 8 inches and has a reach of 72 inches with an impressive 47-0 record, 26 by knockout. Mayweather has been criticized on many occasions for his fighting style. He does not "put on a show" and get into a slugfest like the crowd would like to see. Instead, he likes to have control over the fight and use his quickness to tire out the opponent and give him a better chance at winning staying true to his fighting style. This allows him to tire out his opponent and conserve energy that in the long run helps him come out victorious. Mayweather will hold the home field advantage, as he is an American native who was born in Grand Rapids, Michigan.
In the other corner stands the Philippine native Manny Pacquiao. Pacqiao stands at 5 feet 6 inches and has a reach of 67 inches.  unlike his opponent, Pacquiao does not have a perfect record but has been able to achieve a very impressive 57-5-2, 38 by knockout (12 more than Mayweather). He has become an icon not only in America but also in his native country, thanks to having been voted into the Philippine House of Representatives, being involved in a professional basketball team, and  also being a retired singer.
This fight has been in the making for the past five years. The delay has been mainly credited to the money split and the stipulations which the two fighters could not come to an agreement on. Mayweather has always wanted more money than Pacquiao was willing to give him, but they finally have been able to come to an agreement on a 60/40 split where Mayweather will get the 60 percent. Pacquiao agreed to Mayweather's stipulations of no rematch, having an American ref, and having the fight be at the MGM Grand Casino in Las Vegas. The fight is set to break pay per view records as it is anticipated for it to surpass the last record, which was held by the fight of Mayweather vs. Alvarez.
Many say that this fight has gone past the time were both fighters were in their prime. Mayweather being 38 and Pacquiao 36, has made people think about how good the fight is actually going to be. Despite their age, both fighters in their fight preparations have shown to be extremely fit, both mentally and physically and ready to put on a show for the fans to watch.
Prediction- Winner Mayweather – 12 rounds (decision)
Mayweather's fighting style will enable him to tire out Pacquiao and frustrate him enabling him to take control of the fight. If he lands the majority of his punches like he is accustomed to, it will be clear to the judges that he is the better fighter thus getting the win.