More Than Just A Lap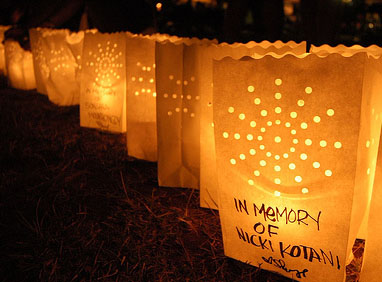 You know how they say one person can make a difference? We all usually nod and go along with it one because it's easier, and two because this phrase is usually said during inspirational talks and you can't turn that type of "advice" down. But, nowhere is the one man change more evident than in a hopeful doctor.
In May of 1985, Dr. Klatt, a Tacoma oncologist, changed the face of cancer and established "Relay for Life." He wanted to boost the income of his local American Cancer Society office, so he decided to raise money through a personal hobby of his, running marathons. He spent an entire 24 hours circling Baker Stadium track at the University of Puget Sound in Tacoma, logging over 83 miles. In just that first year he raised $27,000. Far from only setting off the world's largest nonprofit organization event, Dr. Klatt set off a tradition, which is attended by over 4 million people in over 20 countries who take part in this yearly event.
A team must first be made up of 10-15 people. The actual events all vary in different communities across the nation, taking place at local school or park tracks within that community. The relay begins celebrating with the survivor's lap, where all the survivors of cancer take a lap. After that comes the remembering, with a Luminaria Ceremony which involves lighting a candle.
What makes this Luminaria ceremony so special is that it gives the participants time to grieve, and reflect upon those that have been lost in this fight. Finally, there is a "Fight back" ceremony, in which participants pledge to take a specific action against cancer.
One of the most interesting aspects of Relay for Life, in my opinion is their complete dedication. We all know that cancer does not sleep, nor does it rest. As a result a member of each team must be on the track at all hours of the event. This within itself gives out the vision behind Relay for Life. It truly demonstrates how this fundraiser serves more than only a financial purpose. It gives cancer one less birthday to take, and a family one more day to smile.
Alisal senior Nathaniel Dalerio has participated in Relay for Life for the past three years. At first he didn't see the point, however, as time went by in his first year as a part of Relay for Life everything changed for him. One of the events finally hit home. "For the very first time in that Luminaria ceremony I broke down, I took in the death of my grandmother. As I held up my candlelight I emotionally connected with this whole celebration and it was just a very emotional experience." Dalerio expressed that this Luminaria ceremony was key in finally grieving such a difficult loss, and moving on. In that same event, he stated walking/running 100 laps, and he said he will continue participating.
Health teacher Carolyn Cleaves took part for two years, as part of the organizing committee for Madonna Del Sasso's team. She was mainly part of organizing, fundraisers for the team, recruiting members, and the advertising. Cleaves said, "I think the most memorable moment of it all is when they light up the Luminarias, in the ceremony and every other light is put out. It is just such a beautiful and breathtaking sight." All the events while she was part of the committee took place in the Hartnell track and were all very fun to take part in. Although she no longer participates, she highly recommends it.
After finding out his club secretary was diagnosed with breast cancer, Art teacher and GBA founder Jose Gil decided both he and the whole academy would make a difference. "It was really special being able to walk with her, and teaching the kids how in reality they did not only walk for her, but for millions of survivors and for millions who lost this battle really touched all the kids," said Gil. Although Gil only participated for one year, he had a great experience fundraising, camping out, and letting all the kids walk/run laps while grasping the whole effort behind it. Now that this friend is on the road to recovery Gil said," It just feels great to know we were there with her, in part of this journey, and even though it got harder to continue I believe it is an event worth taking part in."
If Relay for Life has spiked an interest in you, visit their site and register for a Relay team near your community. Remember, it all started with only one man, one community, and one dream. One lap can save saving millions of lives.