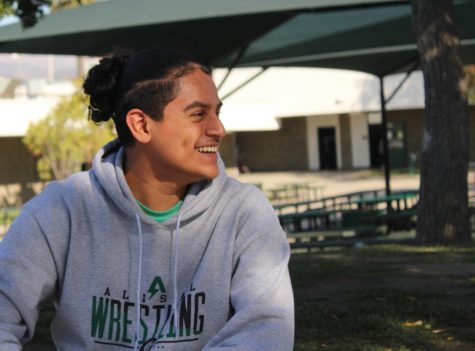 Triple threat Antonio did a fall, winter and spring sport by only his Freshman year. Although he has lost interest in football, he has placed 1st place in 2nd league his sophomore year. His accomplishments and curiosity for trying new things didn't stop there, he placed 7th for varsity boys swimming team doing the 100 meters backstroke just after learning how to swim the year before. These accomplishments didn't come easy, but what helped him was his mom because she was his #1 supporter by being there for him when he needed rides or advice. He also dealt with having to overcome procrastination on the daily because to be in sports you have to stay on top of your classes. Another sport that catches his eye is gymnastics. While he's not practicing for school sports on his free time, he likes to stay involved in school by joining clubs like Postpone.
Outside from school, Antonio enjoys going all the way to Gonzales with his two sisters for rocky road ice cream every couple weeks. Another habit is to go bowling with his friends every summer to take advantage of the free bowling passes. A hobby of his is reading Marvel comic books. If he could live in any world from a movie or book, he would like to live in the world of Infinity War to experience a life changing event that happened to Thor which he thought was pretty cool. When he's not daydreaming and transporting himself to another world, he enjoys listening to Lunis, Tupac, Fort Minor, and ASAP Rocky. If he could be proficient in anything, he would like to be gifted in math. In the future, Antonio plans to attend Fresno university because of the environment and because it offers Engineering. He showed interest in Engineering because he likes to break things apart and put them back together to understand their function.
This shows how Antonio is open minded, he doesn't hesitate to try new things and is ambitious because he sets goals for himself.
By: Paola Mojica
Antonio Chavez, Journalist
May 22, 2019

One Lap at a Time

(Story)

Sep 26, 2018

New year, new league, same attitude

(Story)