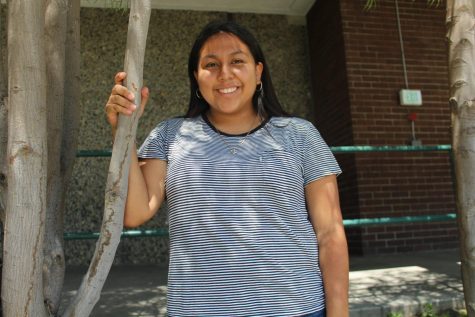 Cristina Alcantar is a funny, sarcastic, and honest 17 year old senior. She is involved in school by doing track and soccer. She has done track for four years and soccer for eleven years. In track, she did shot put and discus. "Discus is where you have a flat weight and try to mark a farther distance than your opponent and a shot put is basically the same thing as disc but with a sphere instead." In soccer she played defense and middle.
When not playing these sports, she listens to music and watches Netflix. Her top two shows are Gossip Girl and One Tree Hill. As a child she dreamed of being a math teacher, since she was really good at it, but she thinks that might have changed these past few years."I feel like this dream has changed because lately I haven't been so great in math class." Her new dream job is
Although she's concerned they're too far from home, Cristina would like to attend either UC Santa Barbara or  UC Irvine to major in psychology.
By Monica Espinoza
Cristina Alcantar, Journalist
May 14, 2018

How far is too far away from college?

(Story)

May 09, 2017

Teen Journalists on Air

(Story)

Jan 30, 2017

Cross Country team aims to race in Hawaii

(Story)