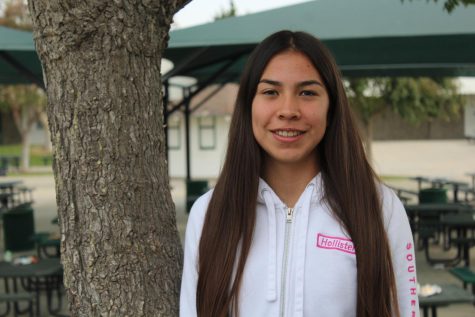 You may not know the quiet girl who sits in the back and is usually on task as well as you think. Fatima is currently a senior at Alisal High School who runs cross country, works at Mcdonalds, and takes AP and honors courses. Even with everything on her plate, she manages her time wisely. A typical day for her is school, followed by responsibilities and lastly free time. When Fatima finishes high school, she plans to go to college. Her main choice is to go to Fresno state and study in the medical field.
Fatima was born into a family of six. Coming from a small agricultural town she has very big dreams. One of her greatest fears would be losing her family. Her daily duties at home are chores and babysitting her siblings. Her favorite sibling is her little sister because she is always trying to make everyone laugh. One person she admires is her mom "she always supports me in any decisions and gives the best advice."
Before Fatima dies she wants to visit Colombia and all its beauties. Fatima can usually be found at Mcdonalds working or at the mall shopping during the weekend. Her favorite brands at the moment are Hollister and Vans. Her favorite type of genre of music to listen to is Country. Her short-term goal as right now is to buy a car, which is a Jeep a Wrangler. On her free time she's usually sleeping or watching her favorite show, La Rosa De Guadalupe. Her relaxing place is the beach in Monterey. Her favorite film is I am Sam. Vanilla is her favorite flavor of ice cream. A few of her pet peeves are her siblings leaving the door open after leaving, people who chew with their mouth open, and when customers argue you with her. Fatima's life is full of new experiences each day!
By: Maryah Saucedo
Fatima Tinoco, Journalist
May 09, 2019

Round 1 "A Fun and Memorable Place"

(Story)

Jan 15, 2019

Girls' Wrestling Preview

(Story)

Dec 13, 2018

Working as a teenager in high school

(Story)

Oct 12, 2018

It's never too early to start eating healthy

(Story)