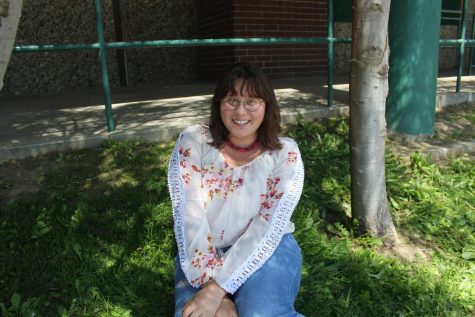 Krystal Herrera is a 17 year old senior. She joined Journalism/Yearbook because she likes writing and hopes to improve on it.
At home, she gets annoyed by her two younger brothers, ages 10 and 13. Her hobbies include binge watching shows on Netflix, writing short stories, and listening to 60's music (particularly the Beatles). "When I am listening to groovy music and watching shows I feel happy, ya' know."
Her favorite foods are fries, chips, and chicken strips. Her favorite color is gold, she likes vintage stuff and prefers pearls over diamonds.
Moving towards the future, Krystal plans to give back to her community, but still questions what she wants to do career wise. She believes she will end up being a teacher just like her parents if she doesn't come up with a different career choice. "At this point I'm focusing on graduating and getting accepted into a good university, but I do know that I am a people person and my future career will probably be something that requires social interactions."
By Patty Orozco
Krystal Herrera, Journalist
May 22, 2018
Sep 14, 2017

Down in Monterey…

(Story)