The transition from high school to college
Alisal alumni share their first year's experiences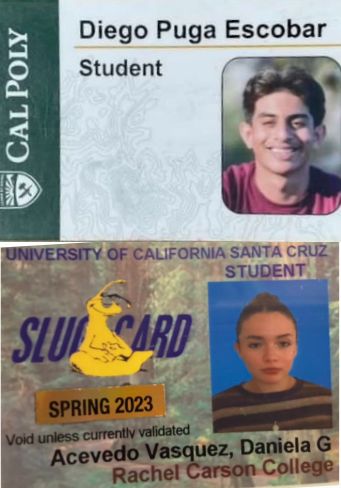 To some, graduating high school can be a relieving experience that has them looking forward to the future, ready to tackle their next achievement. To others it can be a scary awakening that you are growing up and needing to take responsibility for yourself and your future. 
There are numerous paths to consider after graduating, most commonly they are: university, community college, trade school, work, or taking some time off. Generally, high schools mainly encourage their students to strive for furthering their education. However, many students fresh out of high school don't know what they want to do with their lives and hearing about other people's experiences can help guide their choices. 
Alisal alumni shared their experience regarding their first year after high school. Daniela Acevedo (my sister) committed her college freshman year to UC Santa Cruz. The factors that guided her decision were her major in STEM, Santa Cruz's specialties on research, as well as the campus in the forest setting and its proximity to the beach. 
Acevedo is majoring in biochemistry and plans to become a pharmaceutical chemist, her classes for the present quarter are chemistry, biology, and Chicano Latino studies. Each quarter is 10 weeks long. "The major difference between high school and college classes is the pace," Acevedo said. "UCSC has a quarterly system so there is a different set of classes each quarter, and the topics are covered quickly. 
Another difference is the class sizes, lectures are over a hundred students and only one professor so it is hard to build a connection. The classes themselves have been hard and not what I expected." Acevedo expressed her struggle in the fast paced classes and the fact that her grade relies on final exams and midterms and that high school didn't prepare her much for her university career, with the exception of her AP Biology class which has been very useful. 
The road that Diego Puga Escobar decided to take was to Cal Poly, San Luis Obispo. Puga Escobar was convinced by Cal Poly's small class sizes and their radio station program since he is double majoring in communications and journalism, with career prospects in news stations or radio. "I enjoy speaking and talking to people," he said, "and if I'm able to funnel my talents and hobbies into a career path, I truly feel like I would have accomplished something. Essentially I want to be paid to talk." Puga Escobar said the difference between high school and college is that teachers are more involved and influential in high school, while in university, they are almost indifferent to their students. "It's your job to be a good student, not the professors' job to be good teachers," Puga Escobar said. He says that the indifference from the professors is due to the fact that college students are adults and won't have someone like their professors checking in on them to make sure they are on track. "If you get into a university, you are expected to be on top of your work and responsible for yourself and not in need of someone to look after you," he said. 
As exciting and valuable as going away to college may seem, to others it is a lot more sensible and advantageous to continue education closer to home. Anthony Reyes commutes to CSU Monterey Bay, where he is majoring in computer science. Reyes' deciding factors for CSUMB were staying close to home and his family and to save money on housing. "I don't mind missing out on the 'college experience', I just like to focus on my well being and family," Reyes said. His biggest adjustments have been having to reach out for help in order to learn successfully. "You have to be more curious," Reyes said. "In high school I was used to showing up and not caring so much about what I was learning in certain classes. Now I have to pay attention and really give it my all." Reyes plans to pursue a career as a software engineer or data scientist once he graduates.
Some students opt for the community college route. Richard Cimientos opted for Hartnell, to save money and further prepare himself for his field of study. Cimientos plans to get his Associates degree in physics, mathematics, and computer science within two years at Hartnell. After completing his associates, he will transfer to a four year university and complete his bachelor's degree in computer science. Many people have the assumption that Hartnell community college will be just like high school and Cimientos agrees with this opinion since his experiences have been similar. "From my high school experience, I am accustomed to the workload and challenges that come with college level work," Cimientos says. "I feel that college and high school are the same, but the biggest difference being that I get to manage my time on my own terms instead of having a strict schedule of 8am-3pm everyday." He advises that taking higher level classes such as AP and Honors would ease your transition and allow you to thrive in college because you have a closer idea of what to expect and you will be more prepared and familiar with the subjects. 
As far as choosing a school goes, the top determining factors to focus on are location, what you want to study, and the college's ambiance and setting. Acevedo's advice on passing and managing your classes is not biting off more than you can chew and taking too many difficult classes at once, spacing your classes throughout the week so you don't have them all on one day, and looking into tutoring and study programs such as ACE and LSS. Cimientos adds to this advice by saying that time management is key. The ability to commit to a schedule everyday takes discipline and for some it is more difficult to master than others but it is the most helpful thing you can do for yourself. Aside from academics, socializing is a valuable part of college. Puga Escobar's tips on how to meet new people in university: the best way, although cliche, is to be yourself and socialize with others that share your major and people in clubs. You should find yourself, that does not mean to act like somebody else, but you will be influenced by people you choose to befriend, which should be people you respect and admire. 
Leave a Comment
Your donation will support the student journalists of Alisal High School. Your contribution will allow us to purchase equipment and cover our annual website hosting costs.