The Land of Opportunity Shuts Down for DACA Participants
Citizens of Salinas protest on the corner of Sanborn and Market St. defending DACA on September 5,2017 Photo: Chelcey Adami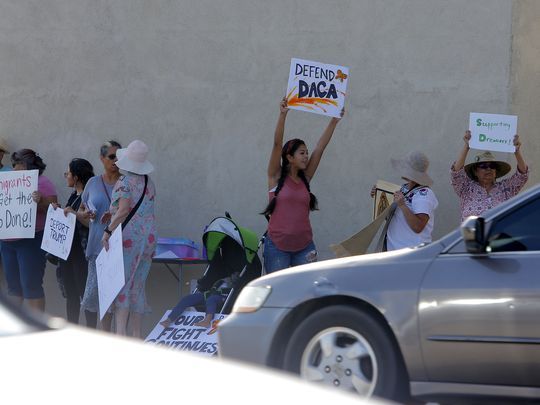 Advertisement
Hang on for a minute...we're trying to find some more stories you might like.
On Tuesday September 5th, 2017, President Trump publicly announced that he will bring to an end the Deferred Action for Childhood Arrivals (DACA) program. However, he will allow Congress six months to develop another program that will replace DACA. Soon after the delivery of this news, people went into a frenzy in trying to make sense of this. What will be the next step for those who are in the program?
DACA, was a program established during the Obama administration in 2012. The purpose of the program was for undocumented children, who were brought to the U.S. by their parents, to have a chance of getting an education and a job without the fear of deportation. Those who qualified would receive a renewable two-year period of deferred deportation as well as eligibility for a working permit and a driver's license.
Upon hearing the news, many are worried of what will happen next. As of Tuesday, September 5th, 2017, U.S. Department of Homeland Security will no longer accept applications for new candidates, but they will be continuing to process applications that have already been submitted as well as renewing permits that will be expiring on March 5th, 2018, only if they're submitted before October 5th of this year.
Due to DACA coming to an end, people immediately took a stand. Protests were held all over the U.S., from Washington D.C. all the way to our hometown, Salinas, CA. The Monterey County Democrats rallied up the citizens of Salinas and held a protest on the corner of Sanborn and Market Street on September 5th. Many holding signs saying "Defend DACA" and "Undocumented and Unafraid" as well as chanting "Si se puede!"
DACA has been a program where children and adolescents alike have a safe haven, where they don't have to worry about being deported and being able to work and receive an education. It is a shame that it came to an end because these children, most who have grown up to become adolescents, didn't know any better when they were first brought here; they were just following what mom and dad were telling them to do. As well as most of them don't even remember what their home country looks like and many consider the United States as their country.
Math teacher, Juan Trujillo, believes that it is not fair for the DACA recipients since they don't recognize where they were originally from, "Some of them came as little kids and they've never gone back to their home countries. They don't know their home countries, to them this is their country. If you were to throw them out, it's like throwing them into the world because they don't know." Since DACA has come to a halt, now these children and adolescents are now living in fear of being deported if they don't meet the deadline of renewing their permit.
Spanish teacher, Anna Martinez, expressed similar feelings towards the halt of DACA, "It's scaring the life out of these Dreamers. They are waiting for Congress to do something, waiting for their next move." AP English Literature teacher, Ignacio Mendez, also expressed his concerns, "It's going to be interesting to see if Congress votes along political lines or if they really change it for the better or try to create some sort of comprehensive plan that will allow those students who have received DACA or who are under that will continue their education. I think ultimately it's sort of unfair to those who were given something and for the government to suddenly take it away, though any governmental program is not forever."
Not only were teachers at Alisal devastated that DACA will end, but students as well. Senior Dulce Juarez said, "It sucks that DACA was ended. As a DACA recipient, I feel worried about the possible outcomes, but I've seen a lot of support from it, from very influential people so it gives me hope that something will be done."
People are hoping that in the next six months Congress will come up with a better program that will replace DACA. Hopefully this new legislative will bring new and improved opportunities for these children and adolescents.
By Evelyn Luquin