New Challenges, New Beginnings
Serving against St. Francis, Kasai Caulowon won her match in straight sets which helped the team win 4-3.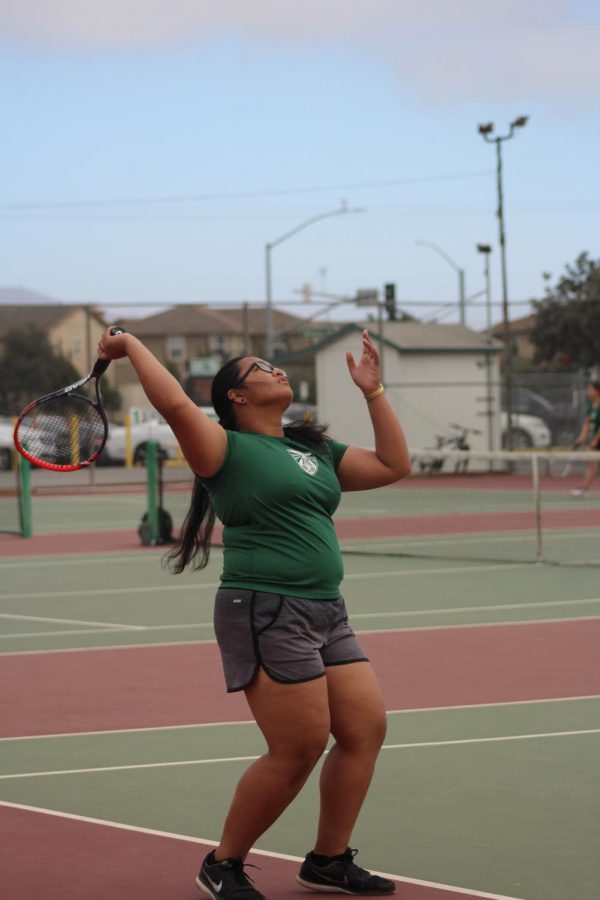 Advertisement
Last year the Girls' Tennis team finished with a record of 4-6 in the Gabilan Division of the Monterey Bay League. While last year was difficult, this year's team faces new challenges.
One challenge is the change of leagues this year. The Monterey Bay League was renamed the Pacific Coast League and was split into three divisions. The girls were placed in the Mission Division, which is the second tier. According to Camacho, the team has never been the bottom half, they've always been at the top of their league. Camacho feels the placement in the Mission is the right call for them. "I believe we are placed in the correct equity group. For our sport, I believe that teams have been very honest in ranking themselves to start this new league the right way."
Another task was finding new singles players to take over the top two spots. This year Camacho decided to move the team's top doubles from last year, Kasai Caulowon and Gracia Melgoza, into the singles this coming season, along with Yareli Ramirez and Karina Marquez.
Although Caulowon and Melgoza were his best doubles last season, Camacho is confident that moving Caulowon and Melgoza to 3, 4 singles was the right move. "Caulowon and Melgoza have the knowledge and patience to take on this challenge. Their skill set is more consistent than most so they are more valuable to the team giving us two chances at wins that just one guaranteed," Camacho stated. Although both Caulowon and Melgoza are nervous for the new change, Melgoza said she feels ready to take on the challenge.
     While the move filled the singles vacancy, Camacho needed a new doubles team. This year his is focusing on finding the best doubles team he can. "Targeting doubles to sweep matches will allow our singles to focus on working on developing their game and relive the pressures of having to win that comes with the position" he stated. This season Camacho decided to put Nayelo Anguiano and Betsy Garcia as his top doubles.
Anguiano and Garcia are 3 year returning varsity players who for the first time this year will be playing with each other. Although nervous to take the place of Caulowon and Melgoza as top doubles, Garcia and Anguiano can't wait to play together. They both have their own strengths and weakness, but that's what makes them work. While Anguiano lacks netplay, she makes up for it with her smashes and forehands not to mention her partner dominates the netplay and backhands making them the perfect duo.
The team started strong, going 2-0 in preseason, and carried it over to start league at 2-2. Camacho feels the team is off to a good start and he's hoping they do better than last year, but he doesn't want to focus on solely just winning. Camacho says, "I'd rather lose with great effort rather than win with minimum effort. I want them to prove to themselves that they can be better."