Girls' Wrestling Preview
At the Lady Royal, Mercedes Rosales pins her opponent from Wilcox High School. "During the match, I felt confident in myself. I have wrestled my opponent in the past and won, but that doesn't mean I will win again. I didn't think about anything except my concentration on the match and my moves."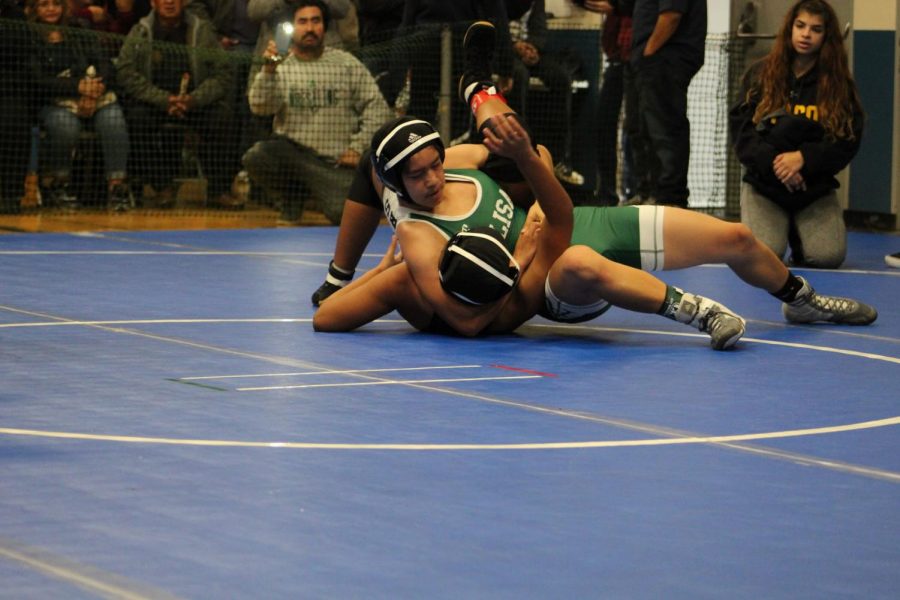 Advertisement
Last season,  the girls' wrestling team placed second in CCS, and senior Marisol Licea won a third of her matches at CCS, qualified for state and made it to the first day of the State tournament last year. Coach JJ Garcia's goal is to "send as many people to state." He believes the team has a good shot, since "top three girls go to CCS." One hurdle they have to overcome is having a huge gap in between the returning and new wrestlers because less than half of the wrestlers came back, according to Garcia.
The team will stay in the top division, the Gabilan Division of the newly formed Pacific Coast Athletic League (PCAL), based off of last year's performance. However, the girls have been realizing that they will be working twice as hard this season to accomplish their goals. With only 8 of 15 returning wrestlers, Garcia said, "Overall numbers are low, but quality is up." Even though the team will face a lot of challenges because of the size of the team, Garcia plans on putting in hard work with the girls who joined.
The returning wrestlers – seniors Marisol Licea, Citlalli Alvarez, and Ana Ocampo;  junior Jamilex Manriquez; and sophomores Mercedes Rosales, Luz Castillo and Abbie Tafolla, and Sofia Gonzalez – have high expectations this season. "My biggest challenge this year that I see is making it to state although I'm staying focused," said Castillo. Having Castillo, Tafolla and Ocampo as an asset to the team, the new additions to the team are – freshman Galilea Tinoco, Maggie Luquin and Giselle Rodriguez, sophomore Stephanie Gregorio, and junior Noemi Hernandez. "Wrestling as a freshman will be my biggest challenge this year because I'm going into a new environment," says Tinoco.
The team's strengths at the moment, is experience. "We have girls that have 4 years of experience," says Garcia. Having these girls means they can "help model for new girls" and learn many things from them. "I would help them in any move they want to learn, I would use someone as an example on how to do it, then try it on them so they can get the feel of it, then I would let them try it on me and give them feedback on the move," says Rosales.
Unlike the boys', the girls do not have PCAL Championships and go straight to CCS. This can be a challenge for them because that means that they have less time to put in the work in order to improve and to accomplish their goals. "My goal for this season is making it to State," said Rosales. She has been getting ready for the season to accomplish her biggest challenge, to drop down a weight class. According to Garcia, when wrestlers weigh the same, it doesn't make sense for them to wrestle at the same weight because it doesn't maximize points, so some people drop down a weight class. "[in December] the girls finished second by one point. We had a girl missing and other girls in the same weight class, and only one can score."
Having a small team can be a good thing, since quality is focused on individuals and having a bigger team has you going all over the place. The team is preparing themselves by being committed into their sport and facing all the obstacles that they will face in order to accomplish their goals. Having all of the matches be a key in league to be ready for CCS or state Garcia says, "At every tournament we go, our girls have a chance to see someone or wrestle someone they may face at CCS… the more matches and exposure we can give our girls the more prepared they will be come CCS or state."
The team has league starting this month, but in the preseason tournaments they have performed well. In the Overfelt Lady Royals tournament, Licea was a champion. The team also placed second place at the Rose Garden Rumble, having Licea, Ocampo, and Rosales finishing first in their respective weight class; Castillo, Manriquez, Alvarez, and Rodriguez placed second; and Tinoco and Luquin, placed fourth. At the Trojan Wrath Tournament many girls placed in the bracket number they were in. Castillo, Norma Rocha, Alvarez, Rosales and Prudencia Silva placed first; Ocampo, Maria Perez and Tinoco placed second; Gregorio, Gonzales and Alondra Coral placed third; and Veronica Reyes and Manriquez placed fourth. "I expect the girls wrestling team to do pretty well or okay at tournaments, but as individuals I think that a few girls are going to kick butt at CCS," says Alvarez.