Boys' soccer team looks to repeat
Alfredo Pacheco attacks Overfelt's defense and drives to the goal in their victory.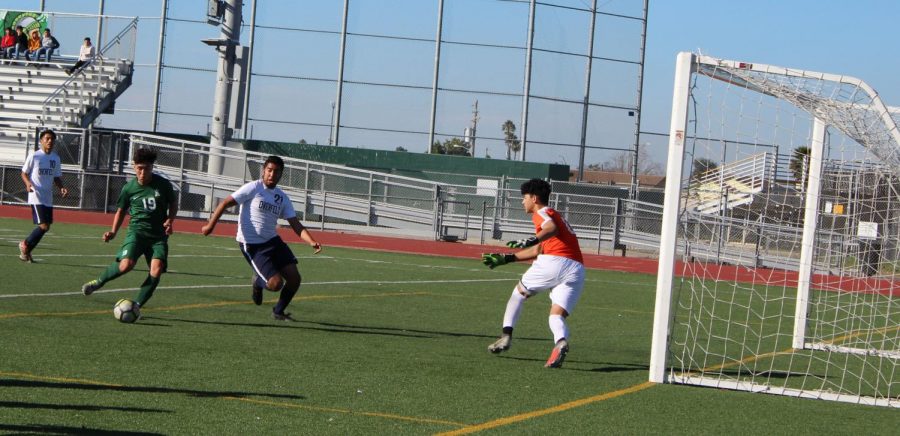 Advertisement
Last year's Alisal varsity soccer team made history by winning a state title. They now have a fresh start and have hopes for another state title, as well as another league title, and an opportunity at a CCS championship.
After an impressive season, winning league by going 8-1-2, Coach Mark Cisneros aims to repeat that success. "Hopefully we go undefeated but it's hard to say in this league because there's lots of hard competition. We ultimately want a CCS championship and another state championship."
He looks forward to seeing Angel Medrano because he is going to be filling the centre-back position, which has been regarded as the most important position in the past seasons and sees lots of potential in him. When asked what he planned on contributing to the team this upcoming season, Medrano responded, "Not allowing the other team to score and supporting the team throughout the season to win a championship. Also, I hope to help the team win state again and help them also win CCS, which is one of my dreams."
Senior midfielder Abraham Montano also wants to win big things. Being one of the remaining seniors left on the team, he now plans to take a leading role and faces new challenges. "Our biggest challenge would probably be being patient with the team, as we lost a lot of seniors and most of the new guys haven't played varsity level, but we'll learn to adapt. I still think we're going to do very good, it's our league and we're definitely going to show that throughout the season."
The team has now played eight games. They dropped their first game against Valley Christian, 1-0. They had a bounce back game against North High, winning 3-0, but then lost to Richmond High 1-0. Then won once again 1-0 against Overfelt and then tied 2-2 against Bellarmine. In their latest games, they beat Mitty 1-0 and tied against Alvarez 0-0. Then recently, lost against North Monterey County, 2-1.
Cisneros plans to make changes and a few more tweaks. "The season's early, through training and our practices, I gotta see what lineups I can come up with to be successful. We're a young team and I got about 14 players that have never played high school soccer and about five that haven't played varsity soccer. Taking that all into consideration, the way they're performing is pretty good and they're only going to get better."
Captain Osvaldo Avalos, a midfielder, said, "Through working hard at practice and improving on keeping the team's composure during bad moments, I believe these are the essential steps to improvement. I still think we'll do excellent, the chemistry is building up as a team and we're still growing."
As it is still preseason, the team plans on making plenty of improvements for the upcoming season against tough opponents such as Bellarmine, Mitty, and Richmond. The team was looking forward to the Adidas West Coast Showcase tournament in Los Angeles, which consists of the top 20 teams in the United States and is where they look to both challenge and prepare themselves for a tough league schedule. The team ended up losing three games and won one. Coach Cisneros commented, "We didn't perform as well as I thought we would perform but it's partly due to the fact that we are a new team and there was a lot of hard competition out there in LA, but it left the new guys with an experience of what competition will be like in the playoffs and was a good learning experience for everyone on the team including myself."