Round 1 "A Fun and Memorable Place"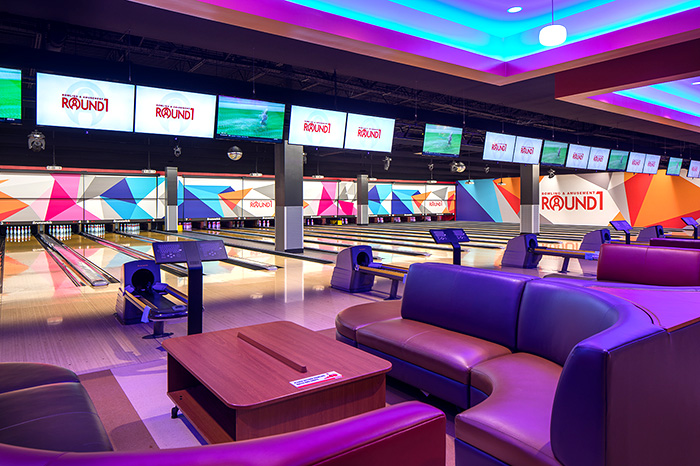 Round 1 recently opened at the Northridge Shopping Center, offering a safe environment for the community. Having most teens complain that there was no other thing to do in Salinas, other than bowling and shopping, an arcade/entertainment center was built, giving teens more to do. The construction of this facility started in late 2017. Its grand opening was January 19, 2019. Their business hours are from 10am to 2am, and includes bowling alleys, billiards, arcade games, karaoke, darts, ping pong tables and a kids' play zone.
I was excited about this place to open and ended up going the second week it opened and once again 3 months after. My experience the first time was fun but not as fun as I thought. I had fun spending time with family. There were many different games to play and many other activities to do, enjoy, and challenge oneself. For example, racing games, basketball games, shooting games, fighting games, photo booths , phone games and crane games. What I enjoyed the most from this place was the different types of games there are to play, the amount of time that there is to bowl, specially the moonlight strike game, the membership cards/deals, the amount of space there is, and how secure the place is. "My experience was good, it was a fun experience that you can't really get anywhere else in Salinas. I would recommend this place because it's just a fun and welcoming vibe you get from the place as a whole and it almost guarantees fun for everyone," added Cynthia Bonilla.
On the other hand, the only problem was that there was no AC on and it was really hot in there, it's somewhat expensive, and the food isn't as good, but it's worth it, you get to have fun and get involved with the other people there. My second time going the service had improved, but it does get somewhat hot in there due to the fact that there are a lot of people. While being there for the first time, I did see a lot of people complaining about how hot the place was and "People tend to complain about the AC on the bowling lanes due to the amount of people that go on the weekends were it gets most busy and so much people makes the place hot," said an employee, Antonio Reyes. David Bucio added, "Another problem is that the games cost a lot of credits and they waste easily, so you waste a lot of money, due to the fact that you get a certain amount of tokens for certain amount of money." Most of the games do range from 6 to 10 credits in order to play them. My first time, I got the game card of $20 and has a total of 92 credits, we eventually ended up wasting the credits quick, since the games range from 6 to 10 credits, and added another 92 credits for $20.
Foodwise there is a variety of foods to choose from. For example, pizza, burgers, cheeseburgers, chicken wings, a wing platter, chicken tenders, green salad, chicken salad, french fries, nachos, mozzarella sticks, churros, and ice cream. For drinks they have sodas, water, juices, beer, and wine (I.D. required for beer and wine). "It is close to the mall so you have a wide variety of where to eat so you're not restricted to eat there," said junior Isael Melchor, who visited in the first month.
Its prices differ for each person depending on what stations they choose to use and at what time. Either you go and get a membership card or you just pay to play for certain amount of credits. Round 1 also has the Party Space which requires a minimum size party of 10 guests and a reservation with deposit within 3 days in advance. Most of the time the lanes are full at the bowling space, so there is a waiting list that is formed and the maximum time allowed to bowl is 3 hours and a minimum of 3 bowlers per lane.
Prices for the bowling alleys depend on what time you go bowling and for how long. Shoe rentals are $4 per person. From Monday to Thursday, the price from the time they open to 4pm vary from $5.50 to $11 and on the weekends they vary from $6 to $16. From 4pm to 2am, Monday to Thursday, prices vary from $6 to $14 and over the weekend they vary from $6.50 to $20. The prices for the karaoke room vary on the amount of people that go in the room. On Mondays and Thursdays the price from the time they open all the way to 4pm is $9 – $14 for 1-6 people. The maximum amount of people in the room is 50. On Fridays and Sundays prices keep getting expensive if you go after 12pm. As for the billiards, prices vary from the time they open to 12pm, 12pm to 4pm, 4pm to 7pm, and 7pm to the time they close. Mondays to Thursdays the prices vary from $8 to $10. On Fridays the prices are more expensive later in the day. On the weekends the prices start from $11 and go on to $15. When going, prices do vary for each person depending on what games you would like to play and for how long.  
There's different types of club membership benefits that include either a club, silver, gold, and platinum card. The club card is for starters to get credits with $1 off. The silver card includes 10 stamps and $1.25 off. The gold card includes 30 stamps and $1.50 off. The platinum card includes 50 stamps and $1.75 off. To keep the card upgraded you must pay an annual fee of $6. The credits are only valid for a year, and you earn a stamp for charges over $10. These cards are first activated in order to play. The stamps on the membership cards mean the times that you have used the card and once you fill out your card with certain amount of stamps you can upgrade to the next one. Club, silver, gold, platinum members receive a discount when they spend $50 or more.
There are also age restrictions. After 10 pm, no children under 18 are allowed unless accompanied by a guardian at all times with a valid identification. After 12am, no one under 21 years old can enter unless accompanied by a guardian of 25 years of age or older. Up to 4 individuals are allowed per guardian.
Round 1 Entertainment Inc is a good place to spend time with friends and family. This arcade place has a variety of games and activities to do, have fun, and earn credits or stamps for prizes. It's a really nice place to make memorable memories with loved ones that will make you want to return for another time. The vibe there is pretty fun, the employees try to get everyone involved and challenge each other. It consists of families and teens challenging each other and spending time together. "It felt very welcoming, clean, I felt like a child again because there aren't just games for kids. It has a convenience of having a bar, bowling alley, and an arcade," says Melchor.
Overall, I enjoyed my visits. Out of five stars I would give this place three and a half stars.