Boys' golf team wins second championship in three years
Senior Roberto Aguayo almost qualified for CCS, but missed the cut by two strokes. Aguayo said, "I'm proud of my teammates and happy that I was able to help Patel get the first two league championships in school history."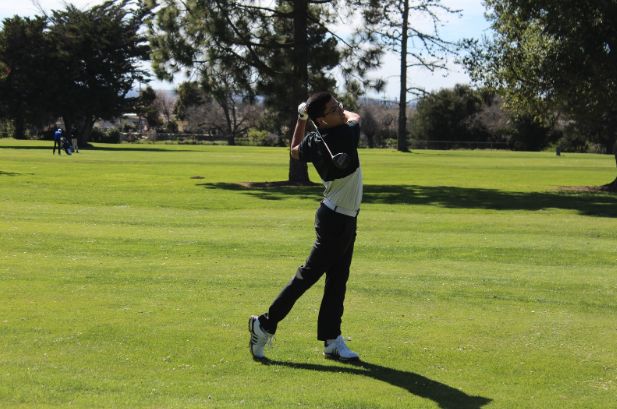 This year's boys' golf team won the league championship for the second time in the last three years, and the first in the PCAL. April 30th at Laguna Seca, the team faced Monterey, Monte Vista Christian, and Gilroy for League Finals and won the close match up.
The team looked good to start the season, taking first in their first match and second in the next. The team's final record before the league finals was 3-2. The two losses put them in second place right behind Monterey. Alvaro stated, "Going into finals i was really confident on my performing although it didn't go as well as I planned, I saw improvement from myself and we kept winning that's all that matters to keep striving for greatness."  Head Coach Patel said, "I felt very confident our players have completed All season long and have come out with great results so we went into the finals strong and confident."
The league finals was an 18 hole match at Laguna Seca, and it was very close. If the team came in first or second, they still would have been league champions unless Monte Vista Christian beat them. Alisal came in first scoring with 266, while Monterey and Monte Vista Christian tied for second with 268, Christopher came in third with 276, and Gilroy came in last with 313.
Senior Roberto Aguayo almost qualified for CCS, but missed the cut by two strokes. Despite all of this, everyone played calm although they were all very nervous. Senior Jose Trujillo said, "It was a great experience so I was thrilled and proud that we were able to make it even if the odds were stacked against us. I got amazing teammates who put in their part and made golf not only a passion for me but an entertaining memory that will forever be engraved in my life."
Aguayo said, "I'm proud of my teammates and happy that I was able to help Patel get the first two league championships in school history." Junior Pablo Trujillo said, "I feel happy that my team and I were able to take the title of league champions. I am especially grateful for being able to earn this title with my teammates which most of them are seniors and will be leaving us for next year." Head Coach Patel's final thoughts about the season and winning league was, "I think winning league was a big accomplishment for us and I'm proud of my seniors, it was a three-year building process and I'm excited to coach my freshman, sophomores, and seniors next season."