High achieving and humble, Josue Gil Silva is Alisal's 2019 Valedictorian
Josue Gil Silva, the 2019 Valedictorian, will be attending Stanford in the fall. He plans on majoring in mechanical engineering, with a minor in either creative writing or ethnic studies.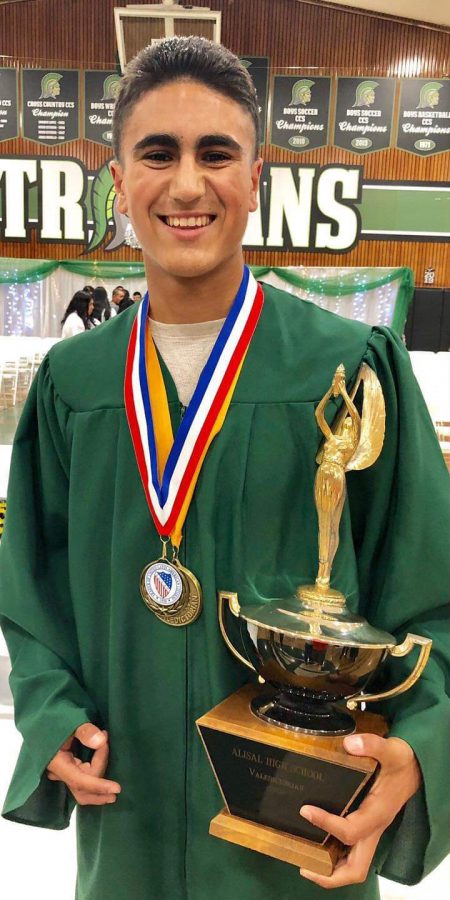 Advertisement
Many overachievers imagine themselves being valedictorian of their class. The role is nerve-wracking, which is why only one (usually) earns the honor. This school year, Josue Gil Silva was Alisal's Class of 2019 Valedictorian.
Silva have been very involved with the school. Whether it was joining clubs, sports, or any organization outside of school, along with the struggles of senior year, he successfully juggled it all.
Silva earned the highest GPA in his class, by being consistent every year. By being in the Top 100 the past four years, as well as a scholar athlete, it helped him get accepted to four elite schools – Columbia, Harvard, Stanford, and Yale.
He didn't think much of this accomplishment. He strives for more than just being valedictorian, his driven imagination has no limits for his future. "It wasn't really a goal for me. My only goal was to go to my dream school. College was my main focus, that's the reason why I tried so hard in school, to get into the college I wanted to go to. It wasn't to be Valedictorian or anything like that, it was just something that came with it I guess. It feels good," says Silva. Meanwhile his parents had the expected reaction "Yeah, they were really excited, more excited than me," Silva adds on.
Silva has now officially committed to Stanford where he plans to major in mechanical engineering with a minor in either creative writing or ethnic studies. In his situation, the decision had to be tough when contemplating between multiple elite schools. "Well, it was my dream school since I was little. After like I got into schools, I was surprised that I got into some schools in the east coast that I went to go visit recently. Like I visited Columbia in New York and Yale in Connecticut. I didn't like Columbia that much but Yale was really cool, I liked it a lot. So it was between Yale and Stanford. When I visited Stanford, it just felt right, like I could fit in. The people there weren't nerdy or anything, like they were real people. Also the weather, it's really nice," he said.
His ambition to be a well-rounded student can be challenging, but it doesn't bother someone like Silva. "I try to challenge myself, I feel like I could learn more when I challenge myself," he says. Oh, does he challenge himself. Silva took around ten AP classes in total, including one of his biggest academic challenges, AP Physics. He did sports majority of the school year such as basketball and track.
He did community service every Saturday to be the head coach of younger children for GBA, a basketball academy. He has also done service work with the Salinas Valley Dream Academy, where they volunteered in toy drives and community marches. Silva joined several clubs such as Robotics, CSF, and MECHA (along with being class officer all four years). Balancing that many activities and events isn't easy (hands down to him), but what really drives a person to do so much is different for every individual. "I think seeing how hard my parents work and my grandparents work to put me in this position, honestly I just feel really lucky to be in this position. I didn't have to struggle, they kinda just put everything in place for me so I could do whatever I want to. Honestly, they worked so hard so I could be here in this position, so I could get an education and go to college. Just seeing how hard they work motivates me to make them proud," Silva expresses.
Other than his own personal motives, he was lucky to find a teacher that he mostly connected with and looks up too. Josue picked Ms. Albano as his most influential teacher, which is no surprise, as this English teacher has touched many hearts throughout her years in Alisal. "She's like the most genuine teacher, she'll be straight up with you. She'll tell you the truth, how the way she thinks. She kind of reminds me like. Just how dedicated she is to her profession, it's crazy she'll be here like at five in the morning everyday, how much time she puts for every little detail. She just taught me a lot, in my writing and my grammar. Also, even outside of school she'll be our advisor. She's a good person and taught me a lot throughout my high school years, gave me recommendations whenever I need it," states Silva.
For Albano, she was surprised, but honored to be recognized by Josue. "I have had about 7,000 students in my forty-six year teaching career.  Josue ranks in the Top 10," she said. "What I respect most about Josue is the person he is.  In spite of his countless academic and athletic achievements, he remains humble."
Josue's last message to his class will be heard before they all separate to chase their own dreams. As far as his speech goes, "I do get nervous, but I guess it's normal. After I start speaking it'll go away right way. Probably will give me chills, butterflies in my stomach. It's crazy, it all happened so fast and now it's ending. Probably won't see most people again until a long time. This is a new chapter in our lives, it's bittersweet."