Girls' golf team back in the swing of things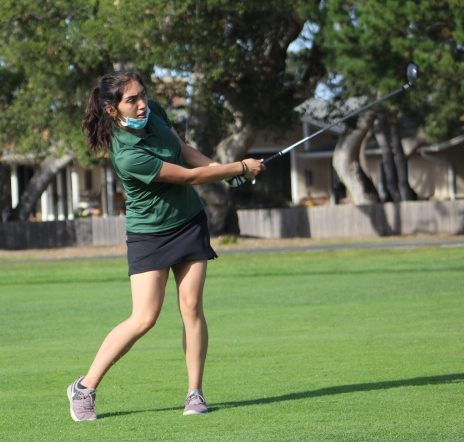 After losing their previous season to Covid, this year's girls' golf team swings their way onto the course with new players and a new head coach. 
While the team had a season the previous year, they weren't unable to compete against other schools due to safety regulations. Fortunately, the team was still able to enhance their skills by practicing at the Twin Creek Golf Course.
However this season, things took a turn for the better as league games opened back up. This season, Coach Milton Grant, who has been assisting the golf team for the past 3 years, took over the position previously held by Emiliano Ferrel.  
Becoming the new leader was quite the big step forward but, what exactly drove Coach Grant to accept this position? "I saw what the team could be and I had a vision on where I wanted to be competitively, but also just building that culture of respect and being a competitor on and off the course both academically and socially." said Grant. 
Of course, a new head coach also means that new expectations and goals are being brought in. Grant already has a clear vision and he knows that his team is more than capable of achieving it. "Our girls are good enough to win and are starting to develop a true love for the game," Grant said.  
This season's team consists of eight golfers: senior Vianey Aguirre (the only returning player);  juniors Karen Perez and Arianna Saldana; sophomores Ilana Mendez and Nikki Lomeli; and freshmen Laura Magan, Alicia Ferrel, and Natalia Hernandez. "I think our team is solid, said Mendez. "Vianey is the only senior on our team and I feel I've learned a lot from her." 
Through nine games the team is in second place at 7-2, with two matches to go before CCS. Grant has decided not to compete in CCS. "In CCS the girls will play18 holes [and] the girls do not have the max 9 rule," he said. "For example, our girls have the 'max out rule,' meaning they pick up their ball after a max score of nine. CCS format requires all of the girls to play the ball until it is in the hole… In order to keep the pace of play going at Laguna Seca, I decided to have no girls participate this year for CCS, but the league final will be played by 6 of our golfers."
Overall, Grant has been happy with the team's camaraderie and passion for the game. He praised the consistency of Ilana Mendez. "Ilana Mendez is producing fascinating numbers as a first-time golfer. She has consistently gotten the lowest score," Grant said. As for the season, "I was not thinking that I would have the type of buy-in this year that I am experiencing, he said. "The girls have really developed a love or passion for the game."
Leave a Comment