Performance Based Assessments: Better or Worse?
Hang on for a minute...we're trying to find some more stories you might like.
As of this year, the multiple choice benchmarks students have become accustomed to have been replaced by the Performance Based Assessments (PBA) in all subjects due to the Common Core State Standard Initiative. While many teachers, as well as some students, enjoyed this new change, some do not like this drastic shift.
All grades were required to take the PBA, but only certain grades took it via computer. "All the freshmen and sophomore students took the PBA through computer, and that was more than any other school in the district did," says Christina Parker, "I think it went very well because the teachers and students committed to all of the training. And because they trained they were comfortable and confident when they took the PBA." This hard work definitely paid off because sophomore students scored an overall four out of six in English.
Many teachers welcome this new form of testing due to its ability to challenge students. Since the PBAs are mostly free response questions, they inspire creativity and levels of critical thinking a benchmark could never provide. "The level of engagement and effort I saw was ten times that of a benchmark," says Alex Lanctot, a freshman and sophomore English teacher.
This new testing strategy will also prepare the juniors of 2015 for the Smarter Balanced Test in Mathematics, according to Gary Golub, an Advanced Algebra and Math Analysis teacher. The test will make students think more and help with "real life problem solving," as Carola Beussen, also an Advanced Algebra and Math Analysis teacher, put it.
The teachers aren't the only ones who believe that this new testing strategy is far more beneficial.  Patricia Gonzalez, a junior student says, "I think it's better if you're good at writing, I like it much better. You actually learn from it, like the sources you use for the essay have a lot of information. In multiple choice, you can just guess so it doesn't prove you understand the material."
However, not everyone feels this way about the PBAs; some people have mixed feelings about it. Brad Ashby, a U.S. History and AP U.S History teacher, has two views on it. "For the mainstream classes I like it but not for AP. For mainstream I think it's tough and it does our students well. For AP I think it is miswritten and the AP classes were not considered. AP embeds this type of teaching anyway so this PBA just takes away three to four days." A thought also shared by the junior Leslie Ortiz, "In AP History you already have to write a bunch of essays and the test takes much longer [than the benchmark]."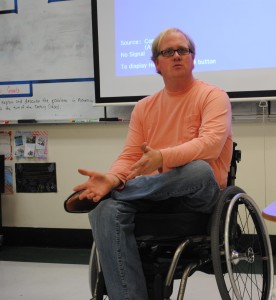 While some students liked the change, many dislike the replacement of the benchmarks for the PBAs. Senior Gabriel Segovia says, "Personally I don't like them because writing isn't my strongest subject." However, he recognizes its effectiveness by continuing, "Overall it is better because it shows who really understands the classes and criteria other than students finding ways of getting answers [for the multiple choice]."
According to some, the PBA foundation may be strong, but there are things it must improve on. "The biggest thing in history would be the amount of time between the when the subject matter is covered compared to when the PBA actually occurs," says Ashby, "For example; the prompt on the PBA was a lesson from August. The prompt should be based on a more current topic." The prompts for history weren't the only ones that were problematic, Lanctot explained that during a meeting many teachers "agreed that the questions needed to be more text-based and therefore require students to provide evidence for their answers."
Even with the flaws the PBA may have, there are still optimistic views on its potential. "This new way of assessing students is definitely a 'work-in-progress' and will undergo a lot of changes. Education, just like the world, is constantly changing," says Lanctot. "The fact that our school is willing to try new things and then spend the time to make them better shows how much we are dedicated to the success of our students."