Evening of the Spoken Word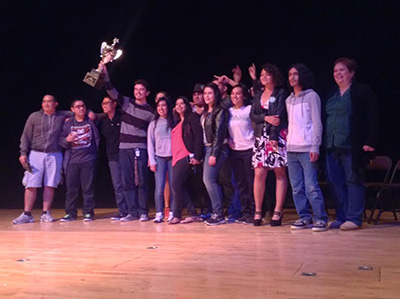 Advertisement
Hang on for a minute...we're trying to find some more stories you might like.
Have you ever been interested in or had a love for poetry? The Evening of the Spoken Word is a district wide poetry competition designed to be an outlet for student's creativity. It is held biannually at Salinas High School and includes schools such as Alisal High, Alvarez High, North High, El Puente, and Salinas High. Twice every year, students from these schools recite different forms of poetry, including haikus, spoken word, and lyrical poetry in front of a panel of judges and are scored on a scale between one and ten. For the past 7 years, Alisal has been participating in this spoken word competition. The first year that Evening of the spoken word was held, Alisal emerged victorious and won first place. Since then, other schools have won the competition. Salinas High has won twice and North High three times.
Before students perform at the Evening of the Spoken Word, they first perform in a school wide spoken word competition called Literature Live. Literature Live was created three years ago by former Alisal English teacher Ana Gutierrez and current Librarian Joanne Collins. "We started the Literature Live Spoken word competition because we both wanted to promote the creativity of Alisal's students," said Ms. Collins. In order for students to participate in Literature Live, a poem must be submitted to Ms. Collins, and then the students perform their written pieces in front of several judges, including English teacher Ms. Albano, English teacher Mr. Mendez, Freshmen Seminar teacher Ms. Bernasconi, English teacher Ms. Dodd, and Ms. Collins herself. When asked about how the judges judge the poems, Ms. Collins replied by saying, "the content of the person's poem is the majority of what's judged. However, the presentation plays an important factor. The students are judged on the confidence they present, the volume of their voice, their body language, and how well they memorized their poem
Senior Jennifer Sosa, Senior Jay-R Mantuhac, who performed "So, How You Been?"' Senior Luz Garcia, who performed "October: An Open Letter to My Parents"; Senior Ramon Jimenez, who performed "Colors of My Mind"; Senior Nathaniel Dalerio, who performed "The Artist"; Sophomore Meli Rios, who performed "And You Became My Darkness"; and Freshmen Christian Quiroz, who performed "For Ms. B Honor" all participated in Literature Live.  The winners of the competition were Jay –R Mantuhac, Jennifer Sosa, and Luz Garcia. Jar- R and Jennifer were both fortunate enough to tie for first place, while Luz received third place.
This year at Evening of the Spoken Word, six participants from Literature Live competed. Of the six, three performed well enough to earn recognition. Jay-R Mantuhac and Jennifer Sosa earned honorable mention by the judges and Nathaniel Dalerio placed second after a student from El Puente. Combined, all three contestants were able to score enough team points to win and secure the trophy, giving Alisal its second victory at the Evening of the Spoken Word.