Boys' soccer team looks to carry strong start into league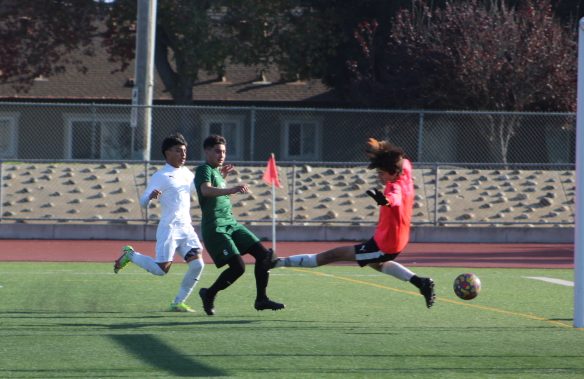 Last year, the boys' soccer team went 7-1-2, and won the city championship in a Covid shortened season. Head Coach Mark Cisneros, who's been the head coach for the team for 15 years now, said that being able to play during Covid was very different, but it was an interesting experience, compared to their previous seasons.
This year's returners consists of seven players – two seniors, Alberto Castro and Antonio Vega; three juniors, Yoni Avelar, Nate Saldana, and Simon Garcia; and two sophomores, Nico Hernandez and Edgar Vargas. There are 13 newcomers – seniors Ricky Ambriz, Cesar Romero, Angel Pinon, Cuauhtémoc Ruiz, Adrian Morado, Oscar Gonzalez, Daniel Gonzalez, Carlos Aguilar, Victor Tellez; juniors Yozef Real, Johnny Virgen, Miguel Cruz; and sophomore Jose Vasquez. 
Since things are sort of back to normal, so is the schedule. The team will play schools from all over California like San Francisco, Richmond, and Fresno.  Avelar, a captain, said, "This year I look forward to playing the big schools, some of them being Archbishop Mitty, Bellarmine, and Berkeley High School. I want to see what my team is capable of, and want to see if we're ready to compete against the best."
The players, along with the coach, all share one main goal, which is to play as hard as they can and to display a strong solid character out on the field,and in the classroom too. They are always expected to be respectful to the referee, each other, their opponents, and, of course, their coach. "The most important thing is to always have good people. Character plays a big role in being on my team. If they don't have it, they simply can't be part of it," said Cisneros.
The players' goal this season is to make it to CCS. "Making it to CCS would feel like a great way to end the season after putting a lot of work into getting there," said Castro. "It would be amazing if we won CCS, but just making it there would feel like an accomplishment for myself, as well as for my teammates and coach."  
Besides making it to CCS, others want to improve themselves and improve their role on the team. Hernandez said, "A goal I wish to accomplish is to honestly become a better leader, whether it's communicating more on the field, encouraging my teammates, and even keeping my grades up."
Cisneros says that as of now one of their biggest strengths right now is everyone has a solid strong character. He says that everyone on the team is able to encourage everyone and as well as to push each other to work harder. 
"What I like is that whenever we or I personally make a mistake you don't hear negative comments, rather you hear things like 'It's cool, pick your head up' or ¨Nice try,¨ Oscar Gonzalez said.
Through seven preseason games the team is 5-0-2, including a strong showing at the
Central Valley Powerade Showcase in Fresno, where they went 2-0-1. 
The game against Bellarmine was an intense game for the team. In the first half they started out nervously and lost their way of playing and focused on defending instead of working as a team. As soon as the second half started they readjusted and started out the play by scoring a goal.Bellarmine was awarded a late penalty and ended the game to 1-1. 
¨So far playing teams like Berkeley and Bellarmine has really shown me and my team that we have potential and the skills to compete with even better and difficult teams,¨ Ambriz said.
Cisneros always picks out the best schools who they think will challenge them the most and help them prepare to get to the league. By doing so when league starts they are well prepared and are confident in their play and their strength. So far the coach and the team are happy with their results in preseason.
The team hopes that as the season goes they can improve their defending, attacking, and their scanning. The players are looking forward to playing the "clasicos" like Alvarez and  Watsonville. 
Cisneros believes that they are on the right track for the league. He believes that as of now nobody is really standing in their way of league, except Watsonville since they are the reigning champions.
The team opens league play at Alvarez on January 11, 2022.
Leave a Comment
Your donation will support the student journalists of Alisal High School. Your contribution will allow us to purchase equipment and cover our annual website hosting costs.