WonderColumn
Advertisement
Do you like Star Wars? Walking Dead? Comics?  Artwork? Cosplay? My Little Pony? Well, the AnaheimConvention Center had all that and much more on the show floor for Wondercon 2014, April 18-20. I had the opportunity to attend this event with a few friends of mine and to be honest; there was never a dull moment.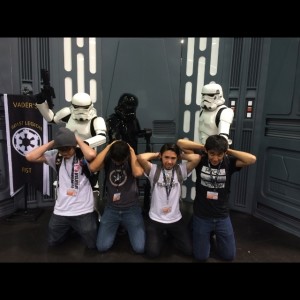 From the agonizing wait for the doors to open, to the inevitable ending of the event, I was invigorated and giddy with excitement as the geek in me took over. There were a variety of booths, consisting of media giants like DC Comics and Nintendo, to more indie independent artists of the "Artists' Alley."
Personally, I'm all for the big names in the business but I spent a majority of my time checking out the independent comics and artists of the Alley. Every booth had a story; everyone brought something different and unique to the showroom.  I'm a huge Star Wars geek (always have been) so while in the Artists' Alley I looked for Star Wars art, and I cannot say that any two pictures were alike. I shamelessly purchased way more artwork than I have wall space, but I'll find a place for all of it, eventually.
Another little obsession of mine is buttons, and well, there was quite the variety at Wondercon.  Big, small, free, pricey, glow in the dark felted – they had it all and my backpack put on a pound or two after the three days.
Other than the "Artists' Alley" I keep raving on about, the rest of the booths also had plenty of nerdgasmic merchandise. Into blond hair and Norse mythology? Why not buy a replica of Mjolnir, Thor's Hammer. Want to be a wizard? Try conjuring the funds to get a wand or pair of Harry Potter's glasses. Huge comic book nerd? Spend countless hours thumbing through the piles and piles of graphic novels at booths all throughout WonderCon.
Besides the merchandise, there was a different kind of eye candy that caught my attention: Cosplay (dressing up in costumes).  It's a big thing at these kinds of conventions and there was certainly no lack of it at Wondercon. I was bumping elbows with the likes of the Powder Puff Girls, Scott Pilgrim, Harley Quinn, Ms. Marvel, Stormtroopers (my personal favorites), and the Vault Dweller. Everyone in costume was there for the fun which made it that much more enjoyable. Believe me, there's nothing funnier than walking up to Darth Vader and saying, "Hey, do you think you can choke me real quick. I want to take a picture."
During all the excitement and lack of sleep (usually 4 to 5 hours), the convention takes a toll on the stamina bar of its adventurers. That didn't mean, however, that the fun had to stop. My friends, who will remain anonymous, and I spent a few hours in the back corner of the convention hall deemed "GAMES" by a less than ominous sign. The games section, the event is where established game companies give demos of their product as well as indie game creators show off their wares. There is where we met a fellow with an outstanding beard and stylish kilt who everyone affectionately called, Mr. Wizard. Mr. Wizard was running game demos of Cool Mini or Not products such as Rivet Wars and the new group obsession at the gaming table, the board game, Zombicide. We spent quite a bit of time facing off against the hordes of the undead while, against the wizard's wishes, shooting each other in the back with shotguns; the sadists of the group were happy.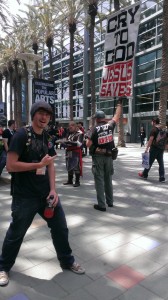 Another important feature of Wondercon was the panel discussions. Being a Star Wars fanboy, I went to wait in line for the Star Wars Rebels panel, which talked about the new show to air on Disney XD. Apparently, I wasn't the only fanboy at Wondercon, and depressingly, I was three people away from entering the panel when it got filled to maximum occupancy. It was not all storm clouds and sad faces though, the line to get into the Star Wars panel became the line to get into the New 52 comics where I got a chance to watch the artists and writers in control of icons like Batman, The Flash, and Green Lantern, talk about where they wanted to go with the characters and how they fit in the DC Universe. I stayed for the panel afterward as well. It detailed the history of Batman and the many interpretations of the famed character, it being his 75 anniversary and all. (Happy Birthday Batman!)
After that we had the chance to get into "The Arena," for the world premiere of Son of Batman and later met the voices and art directors behind it. It eventually opened for questions where we witnessed a Batman cosplayer having a Batman voice battle with the literal voice of Batman, Kevin Conroy.  The battle ended with the cosplayer saying, "I'm the one in the suit." To which Conroy replied, "But I'm the one getting paid for it."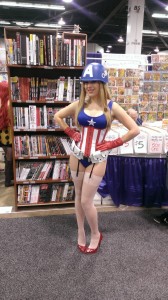 For those of you wanting to attend something like this, know that it is physically taxing and though you may try, you will not be able to experience everything in one trip. That being said, no two people will experience the same thing either. I would definitely advise going with a group that has similar interests in the geek world. Our group ended up splitting into two smaller groups; one made up of comic book hunters and the other consisting of all-rounders who wanted to experience a little bit of everything. Comic-Con, from which WonderCon draws inspiration, is a much larger convention that I plan on going to one day. JJ Garcia, a Con Vet said, "WonderCon's a good warm up to Comic-Con if you're a first timer. Comic-Con's a whole other animal. 40,000 people attend WonderCon, compared to the 150,000 that attend Comic-Con and you start to see the picture." That being said, I would definitely advise that if it's your first Con, make it Wonderful.
All in all, from the discovery of a Brony (someone who enjoys My Little Pony) amongst us to the infamous striped sweater, it was honestly one of the best three days of my life. Although we would like to go again next year, there is currently no plan in motion. So until the schematics are drawn up, I'll just have to hang on to the little Zerg bobble head I purchased. Hail Hydra!