Alisal High students place in Monterey County Japanese Speech Contest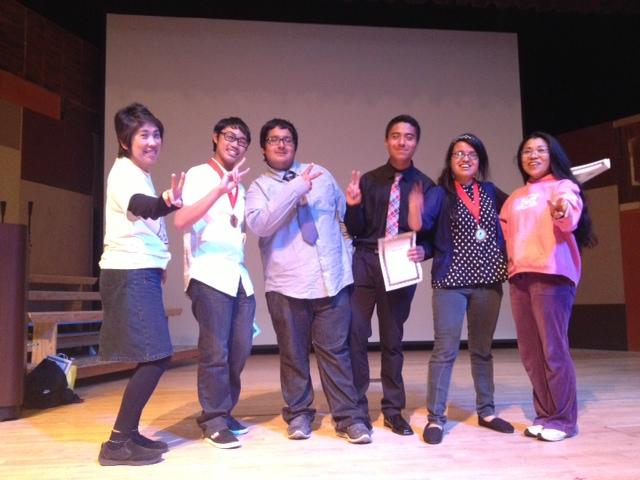 The 8th annual Japanese speech contest took place March 28th this year at the SalinasHigh School auditorium. There were seven advanced level contestants from NSHS, EAHS, Stevenson High and AHS; four of which were AP students and three which were level three students. Students from lower levels participated as well by presenting short speeches they'd learned in Japanese. The advanced level contestants memorized speeches on topics of their choice and were judged on the delivery of their speech as well as a Q&A and an impromptu speech all in Japanese.
            Advanced level three senior Samantha Calderon placed second and Junior Gardelio Montehauc, also in advanced level three Japanese, placed third in the speech contest. "It was basically pen on paper. I had an idea; I brainstormed, wrote it all out in English then translated to Japanese. It was difficult but I practiced out loud a lot and in front of the mirror." Samantha Calderon said. Calderon's speech was titled, "The Skewed Image" with the intention of, "broadening some minds" about AlisalHigh School and the "flawed image people have of it" by addressing her perspective. Calderon expressed her feelings through her Japanese speech saying, "I wanted to represent our school, how I see it because people have such violent images of Alisal and we aren't just the people on the news, we've also had lot of success but it's often overshadowed by the bad media."   
            Junior Gardelio Montehauc who won third place in the competition wrote about his life in east Salinas as a Filipino. "Even though I am viewed as a minority in this community I still feel accepted by the people living in east Salinas." He said. "I described my experience here and highlighted some of the positive and negative aspects of being a Filipino in a Mexican community."
             Montehauc and Calderon worked separately on their speeches but each supported the other to present their best. "JR [Montehauc] and I had previously come to an agreement," explained Calderon, "that one of us would place." Montehauc agreed saying, "We didn't collaborate but we supported each other and that way we didn't feel like we were competing against each other but against other schools." When Montehauc received third place they were both happy but when Calderon was placed in second place they were shocked that they had both placed in the top three. "I was shocked and overwhelmed that I did that! That we both placed and represented our school well," said Calderon.
            Lower division participants from Alisal, Junior Jose Garcia and Miguel Valdivia were very proud of their peers as was their Japanese teacher Mio Nishimura. "I knew they had the skill and dedication to make it to the top. I am very proud of them and even happier that both of them made it to the top three," said Nishimura.
            Samantha Calderon was invited to the national Japanese speech contest to represent the Salinas High School district and Gardelio Montehauc plans on advancing his Japanese studies to compete in the competition again next year as an AP level student. "I placed third this year but I'm working hard next year in level four Japanese to represent AlisalHigh School and win first place." said Montehauc.