Green Day? More like Green Dayumm!
Billie Joe Armstrong performs "Revolution Radio" on August 5, 2017 during the Revolution Radio Tour at the Oakland Alameda Coliseum Pic: Instagrammer @greenday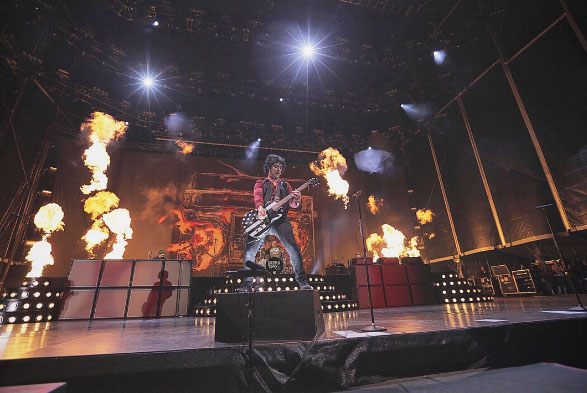 Advertisement
Hang on for a minute...we're trying to find some more stories you might like.
In support of their latest album release Revolution Radio, East Bay's punk-rock band Green Day, along with British rock band Catfish and the Bottlemen, made a stop at the Oakland-Alameda County Coliseum on August 5, 2017.
This spectacle was considered Green Day's homecoming show. Green Day's lead singer and guitarist Billie Joe Armstrong commented in an Instagram livestream hours before the show, "I used to take the BART from El Cerrito to Oakland, playing at the Coliseum is a dream come true." Indeed it was a dream come true, thousands of fans- ranging from locals, teens, and old schoolers- filling in the stadium just to see the extravaganza.
Opening the show, British rock band Catfish and the Bottlemen, delivered a powerful performance. Playing songs "7" and "Cocoon" from albums The Ride and The Balcony. Soon after the thirty minute performance lead singer Ryan Evan "Van" McCann thanked the audience for their participation and Green Day for having the opportunity to tag along.
When Armstrong, drummer Tré Cool, and bassist Mike Dirnt took the stage, the crowd went wild. Singing "Know Your Enemy" from 21st Century Breakdown, Armstrong pumped up the crowd screaming "Stand up!" and "Jump! Jump! Jump!" into the microphone as well as making them repeat his Eh Ohs. Famously known for breaking down the barrier that exists between the star and the crowd, Armstrong found his first fan of the night, a blue highlighted female. Making sure that she knew the lyrics to "Know Your Enemy'' she was called on stage. Upon finishing, Armstrong instructed the crowd to hold their hands up in the air as the girl did a daring and amazing stage dive. They effortlessly transitioned into newer songs "Bang Bang" and "Revolution Radio" from Revolution Radio.
Things took a political turn, not a huge surprise since they're known for their political banter, as "Holiday" from punk-rock opera American Idiot played. Halfway through the song Armstrong took the opportunity of assuming the role of East Bay's representative, saying "the representative of Oakland, California has the floor." Armstrong continuously praised Oakland and San Francisco as "a place where we try to step ahead of the world" as well as chanting "No racism! No sexism! No homophobia!. No Donald Trump!"
Soon enough the second fan to experience stardom was chosen during Dookie "Longview". Armstrong invited a fanny pack wearing female from the crowd to sing the third verse. They did exactly that and so much more, dancing, rocking out with Armstrong, and overall having a blast. As Armstrong once again instructed the crowd she began to take off her hoops and got ready to do a stage dive. As "Knowledge", a Operation Ivy cover, played the third fan was called on stage, Maddie- a green/yellow-haired female. Armstrong calling the crowd in desperate need of a guitarist. Finally settling with Maddie, she rocked out on stage playing only three simple chords, clearly having the time of her life. As "Knowledge" came to an end, Armstrong deemed Maddie worthy enough to keep the guitar.
Armstrong then decided to play a huge throwback, dedicating "2,000 Light Years Away" from their second studio album Kerplunk to the fans who were supporting them at Berkeley, California's local club, DIY 924 Gilman St, before their fame and fortune. The rest of the set included classics and hits like "Welcome to Paradise" and "She"(both from Dookie), "Saint Jimmy"(American Idiot), and "Minority"(Warning).
During the lengthy mashup of "Shout", "Always Look on the Bright Side of Life", "(I Can't Get No) Satisfaction", and "Hey Jude" Armstrong got deep and personal with the crowd professing his admiration for the Bay Area's ability to "come together". "You get to this point where you just get so sick… and sometimes you just wanna have a get together, …not just a normal crowd but a gathering… because that's what the Bay Area is always been about it's about the people coming together. Well there's the hippies from the 60's, all the way to the punks right now, to all the very knowledgeable millennials" Armstrong professed. He then continued on what he expected from his America "some equality" and finished off with "That's right this is revolution baby!"
As Armstrong shouted at one point "I don't give a sh*t what curfew says, because we are playing all night long". The spectacle came to a close with songs from Revolution Radio- "Still Breathing" and "Forever Now". One by one each member exited the stage, the crowd chanted "Encore! Encore! Encore!" and without disappointment they returned and played four more songs- "American Idiot" and "Jesus of Suburbia" from American Idiot and acoustic takes on "21 Guns" (21st Century Breakdown) and "Good Riddance (Time of Your Life)" (Nimrod). Soon after there was a huge firework display that lit up the Oakland night sky.
From performing in small local clubs to filling up arenas, East Bay's Green Day has grown to be this great band who delivers an extraordinary performance from breaking down barriers by interacting with the crowd to calling his fans family, this was an amazing experience that I had the honor to attend. From the double encore to the amazing firework show this was single handedly the best punk-rock concert that I have attended.
By Evelyn Luquin