Bryson Tiller Concert Review
Fans enjoying themselves while watching Bryson Tiller electrify the stage at his Set It Off Tour.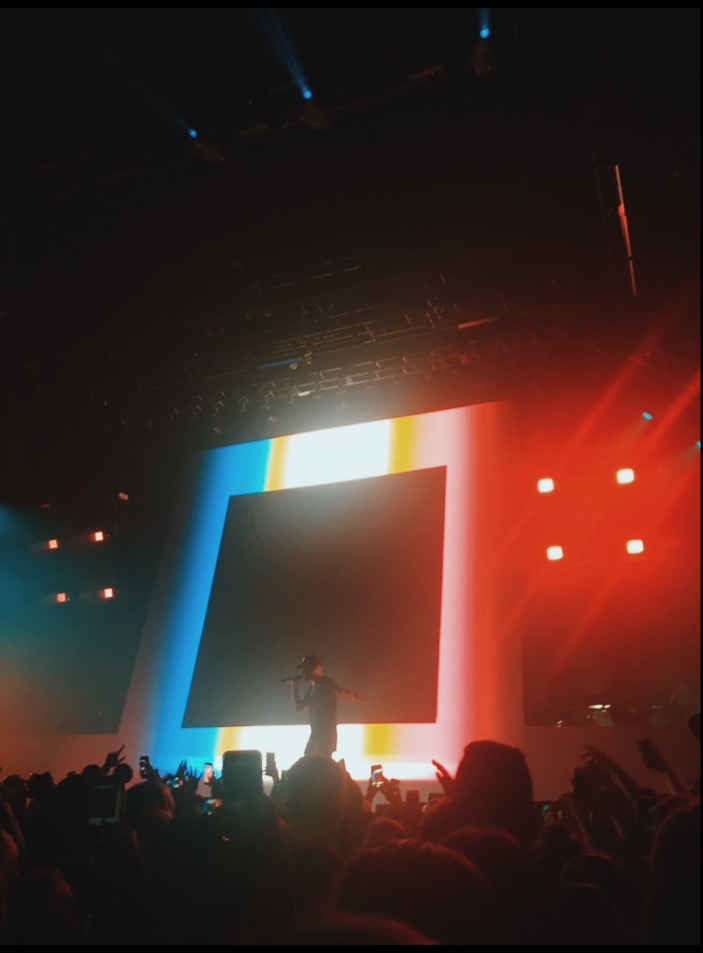 Advertisement
Bryson Tiller is a Louisville native whose career skyrocketed back when he got signed with RCA records. With the release of his first album in 2015,T R A P S O U L, his song "Don't" was #1 on the Hot 100 charts, and that is when I discovered his music and instantly fell in love with his soulful voice and R&B chops.
He kicked off a North American tour for his second debut album, True to self.  On August 15th, I drove up to the foggy city of San Francisco to see Bryson live at the Bill Graham Civic Auditorium. Walking into a packed venue full of T R A P S O U L fans, I could feel the energy radiating from everyone in the crowd and I was ready to experience a great night of live R&B music. With pumped opening sets from the one and only Metro Boomin and H.E.R,  the concert started off on a high note. H.E.R. came out to the stage with a powerful soulful performance that was amazing to hear live, not only did she excel her high notes but she also sang a cover of "Redbone" by Childish Gambino. Metro Boomin DJ'ed songs by Migos, Future, Drake, and other well known artists/songs that electrified the crowd and started off the fun night.
After the opening sets we were all eager to see Tiller grace the stage.
Pure fog began to rise up and the lights were flickering white when his "Rain On Me" came on. He then transitioned into "Blowing Smoke", his hard hitting rap song. He got all the ladies in the crowd going crazy over his next track "Run Me Dry". The stage was lit up with a colorful backdrop, the setup looked like a giant cube connected to the stage where Tiller would sing on and create a 3D illusion.
Tiller knew how to work his sold out show by picking up the pace singing "Let Em Know" and "Rambo" from his platinum T R A P S O U L album. The crowd, including me, were singing along to all the songs, and when the deep bass drop of his track "Don't" started to get louder and louder, the crowd couldn't hold their excitement and I immediately saw every one put their phones up to start recording and capture it on video. "Don't" is the track that Tiller posted on Soundcloud and is his most popular song.
That ended up being my favorite song from the night, but overall the whole concert was a great experience. I have seen many artists live and some who sound different in person and it turns me off because their voice doesn't sound the same, with the exception of Bryson Tiller.
I thought he did a phenomenal job singing and performing. He exceeded my expectations and left me in awe of his stage presence, his singing, and his dancing. The show was extended until 11:30PM that night, with Tiller singing for two and a half hours. He combined many of his old songs and new songs together very seamlessly. His humility shined through as he began to speak on how he wanted to give up on music and started explaining how he wasn't at a good place in his life, but that with the help of his daughter and staying true to himself he found the fire inside of him and started to pursue his music more.
He promised the fans that he will never stop making music that speaks to his true self. The crowd showed him a lot of love throughout the night and we got love back at the end when he promised the fans that he will be coming back to perform in the Bay Area again soon. The sold out show was in a spacious venue where I got to stand on the general admission floor which was close to the stage.
Ultimately, I don't regret remaining on foot for five hours and being out late on a school night because I got to fangirl over a very talented man who gave an amazing and heartfelt performance.  
By Clara Jimenez