The need for concussion awareness in high school football
"Dangerous head to head collision." Picture by Sports Illustrated https://www.si.com/2013/10/22/nfl-concussions-head-trauma-special-report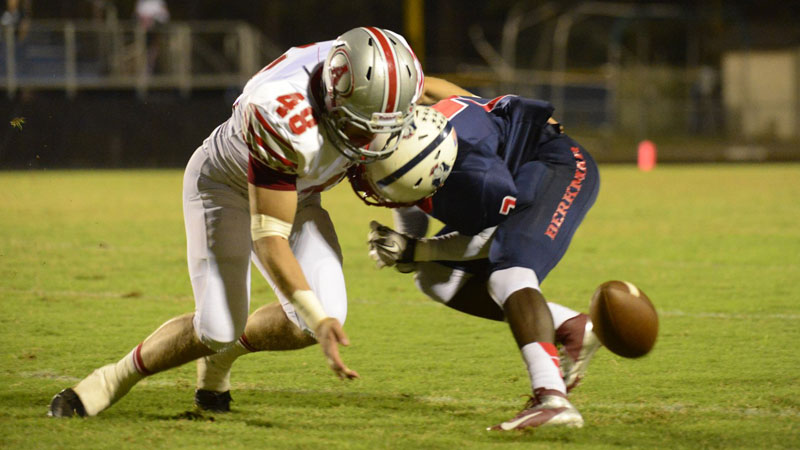 The sport of football is one of the most loved sports in the world. Football's competitiveness is one of a kind in sports. For those on the field, it is a battle won with hard work. That hard work, besides the long workouts, can include long and short term health risks.
Most football players love the physicality and attention that comes with the game, but injuries have to be something they become largely aware of. Concussions are one of the most common head injuries in this sport, especially at the high school football level where they are all too frequent.
Equipment and tackling techniques can play a big role in preventing a concussion. Sam Browd, an associate professor of neurological surgery at the University of Washington, explained that current helmets were never meant to prevent concussions or any internal head injuries, they were meant to prevent skull injuries. Also, the Centers of Disease Control and Prevention or CDC, offers a program called "Heads Up" to guide and aid, players, coaches, and referees on how to prevent and detect a concussion. According to The American Orthopaedic Society for Sports Medicine, the Heads Up program has reduced youth football injuries by 1.4% with their tackling techniques program.
Alisal High School's football program has done a good job of alerting its athletes of concussions by making it a requirement to take the imPACT test. The imPACT test is an online course that gathers each of the players personal data by making them use their memory in a test in which they are forced to be fully aware of what the test requires them to do. Athletic Director Jose Gil said, "The days where coaches tell you to shake it off and get back in the field are over."  He said that six freshmen football players have been diagnosed with a concussion so far this season, but they all have been cleared to go back to their normal football activities. "We sit them out until we receive a note from their doctor that states they are cleared to participate in physical activities, and even then we sit them out for a few more days as a precaution," said Gil.
Student athletes are required to attend a drug contract meeting with a guardian before they are eligible to play a sport. During the meeting students and parents are informed of drug policies, concussions, and other injuries that come with the risks of joining a sport. After the meeting those who fully understood those risks and requirements sign the drug contract.
Alisal is also being more careful with concussions this year by coaching their players up on the field. According to juniors,  Alexis Lopez and Julian Cardenaz, current linemen for Alisal's varsity football team, they spend a lot of time practicing their "head and shoulder placement" techniques. Varsity head coach Cesar Chaidez said, "Safe tackling techniques, contact practice limits, and neck strengthening exercises are important to keep our team healthy."
So far this season no player from Alisal's varsity football level has suffered a concussion. As to the football equipment, Alisal has some of the newest pads and helmets for their players at all levels. Coach Chaidez said, "All equipment here is either new or reconditioned." Most players feel safer with the equipment and techniques they practice with on a daily basis.
The retirement of high-profile professional athletes due to brain injuries has created an increased awareness of potential long-term mental health dangers. According to an article in The Verge, research has found that football is known to cause a head injury called chronic traumatic encephalopathy, or CTE, which causes memory loss, depression, and dementia.
When it comes to playing football professionally, tragedies from the past are bizarre. CTE has played a big role in those tragic incidents. For example, in an article from NYtimes, there are numerous of cases listed where players with CTE killed themselves or someone close to them. Players who have played in the NFL coming from college level know just how much the physicality intensifies coming in. Former NFL player, Andre Waters, when asked about the amount of concussions he had suffered, reportedly said, "I lost count at 15."  Today, although the NFL doesn't promote concussion awareness to the viewers, they do have concussion protocols for all their players.
If we want the sport of football to be fun for the players, the correct procedures have to be followed to lower risks of long and short term head injuries. We need to raise awareness of concussions and take it more serious. A simple concussion protocol can save lives of athletes from all sports, not just football. A question like, "Do you feel dizzy?" from the coach to the player can also prevent any further risk to the athlete. By implementing a strict concussion protocol at all high school football programs there is a good chance to significantly lower all head injuries.