Dealing with stress? You're not Alone!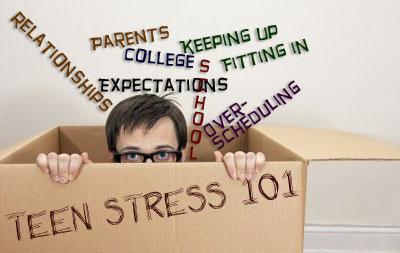 Advertisement
Hang on for a minute...we're trying to find some more stories you might like.
Stress is something that is inevitable these days. Everyone feels it, but for the most part, teenagers experience more stress due to high school.
I know for a fact that I have gone through more stress these past two years. Prior to my junior and senior years, I had your average stress. I stressed about my math and chemistry class the most. I dealt with that stress easily. The classes were challenging, but did not bring the level of stress that came my junior year.
My junior year was jam-packed with rigorous courses – AP English, AP U.S. History, AP Spanish, and Math 3 were my most stressful classes, especially APUSH. APUSH required us to read 30+ pages and take good notes on them every week, sometimes even up to two times per week. For a student who went from not reading, this took a big toll on me. AP English wasn't as difficult for me, but it did add a level of stress to my life. What I didn't know was that senior year would be even worse.
Currently, the stress is getting to me in the shape of college applications. Not knowing which major to choose, which college to apply to, and just signing up in general is all extremely nerve-wracking and stressful.
The FAFSA (Free Application for Federal Student Aid) which I have completed, was also extremely stressful; one single error and it can hold my application back for quite a while. The simple fact at this point, is that making any mistake can affect you negatively, which causes some stress as well.
Another spike in stress is due to college applications. It is understandable for this to happen, students begin to apply for student aid, colleges, scholarships, and much more all in a short period of time. A recent study conducted by the Palo Alto Medical Foundation revealed that 55% of the 138 students surveyed, consider school/college applications as their main stressor these days. For first-generation college students, this is all completely new and they really do not know how to tackle it.
Finals week is also something that is already freaking me out. I do not know how I will pass my Econ and math finals. I'm more stressed about Econ, I will need to study my butt off if I want to pass the class/final. I already study for the class whenever I have the chance and my tests still don't show progress. Math on the other hand, I feel more confident about, I actually get most of what is talked about, but I am still nervous.
Although stress is horrible, it does have some positive outcomes at times. All this stress is caused by students giving it their all to be successful in the future. Some stress is necessary in order to have a better life. Although this might sound counterproductive, it is true to an extent. According to Jenny Anderson, "Your heart is pounding because you want to do well and your body is helping you to rise to the challenge." Stress is some sort of a good sign, it is helping you achieve better things although it may seem rough. The problem with stress is that it can get extremely out of hand resulting in more serious problems such as depression and suicidal thoughts.
Nevertheless, stress is inevitable and it will most likely happen whether we like it or not. We are all in this together and there are ways to lower your stress level and not want to commit suicide. For one, you can take a momentary break from the work you are doing and go outside and enjoy nature. This has proven to work in my experiences. It can be a way for others to limit stress as well. You can temporarily lower your stress in numerous ways – meditating, playing with your pet, watching videos – the trick is to never let stress overpower you. We will always deal with stress, I am extremely stressed out right now, but in the end I know this will be worth it. You are not alone!
By Juan Tovar